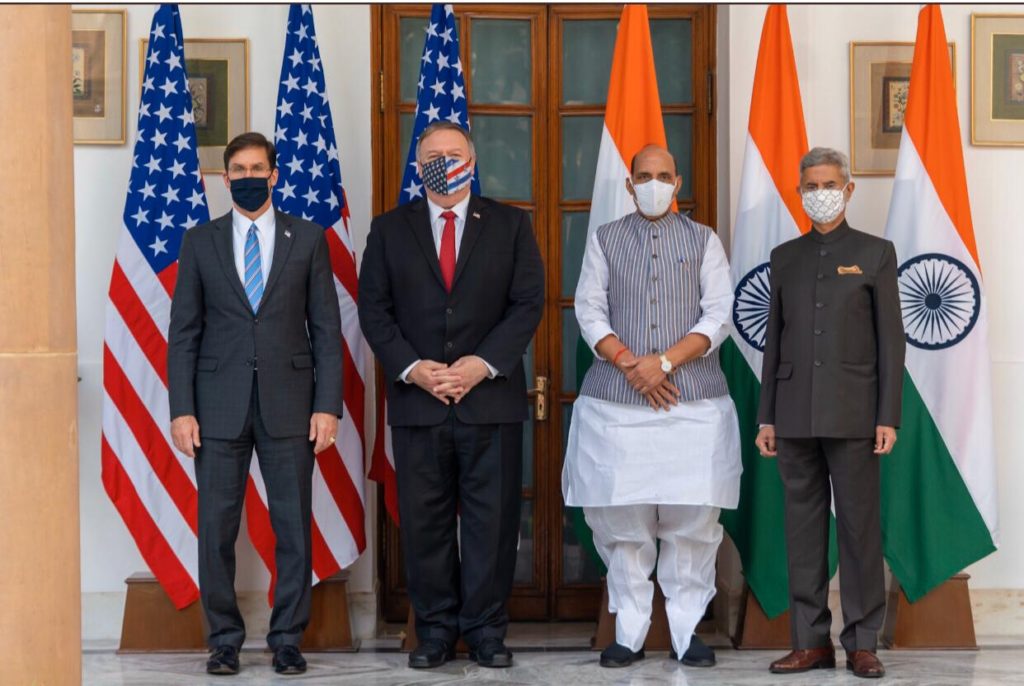 Spanish – On Tuesday, October 27, the two-day visit of the Secretary of State, Mike Pompeo, to New Delhi to strengthen the alliance between the United States and India against the communist regime of China continues.
From India's capital city, Pompeo emphasized the importance of the countries working "together to stop the threats of the Chinese Communist Party"
Defense Secretary Mark Esper said that India "will be the most decisive partner of the United States in the Indo-Pacific region in this century."
Esper added that the Asian country is "the largest democracy in the world, a very competent country with talented people who face, every day, Chinese aggression in the Himalayas."
He is referring to the impending war between China and India as the Chinese army advances over the border between the two nations.
Commenting on his meeting with Indian Foreign Minister Subrahmanyam Jaishankar, Pompeo said: "We agree that the Comprehensive Global Strategic Partnership between the United States and India is critical to the security and prosperity of our countries, the Indo-Pacific region, and the world."
Today's U.S.-India 2+2 Ministerial was a success. The bond between our nations is built on the foundation of a longstanding friendship, partnership, and vibrant democratic traditions. Thank you @DrSJaishankar, @EsperDoD, and @rajnathsingh for yet another successful dialogue. pic.twitter.com/h9fy6c7lYz

— Secretary Pompeo (@SecPompeo) October 27, 2020
Mike Pompeo has been forging a partnership in the Pacific with India, Japan, and Australia for weeks.
Although with a ministerial change, Japan has shown itself to be the most moderate in the alliance, it is among the countries that have taken the harshest action on trade with China. Last April, it announced a massive withdrawal of its production from the Asian giant because of the coronavirus pandemic.
#ÚLTIMAHORA | El gobierno de Japón gastará más de $ 2 mil millones para ayudar a las empresas de su país a sacar su producción de China. pic.twitter.com/T2YcikupXW

— PanAm Post Español (@PanAmPost_es) April 9, 2020
Before the coronavirus pandemic, President Donald Trump personally traveled to India, where he was hosted at the historic Motorcycle Stadium, the largest cricket stadium in the world.
The largest democracy (in terms of population) in the world welcomed the U.S. president with a stadium filled with over 110,000 people.
From there, the Prime Minister of India, Narendra Modi, said "Tan mitram yatra vishwas": "friendship is where trust is unbreakable." Trump responded by announcing the cooperation between both countries for space expeditions.
"They are the living example that with hard work and devotion, India is capable of anything," Trump exclaimed.
After the pandemic that paralyzed the world, the tension between China and the U.S. increased. And India will be a strategic ally of Washington in confronting the Asian giant.