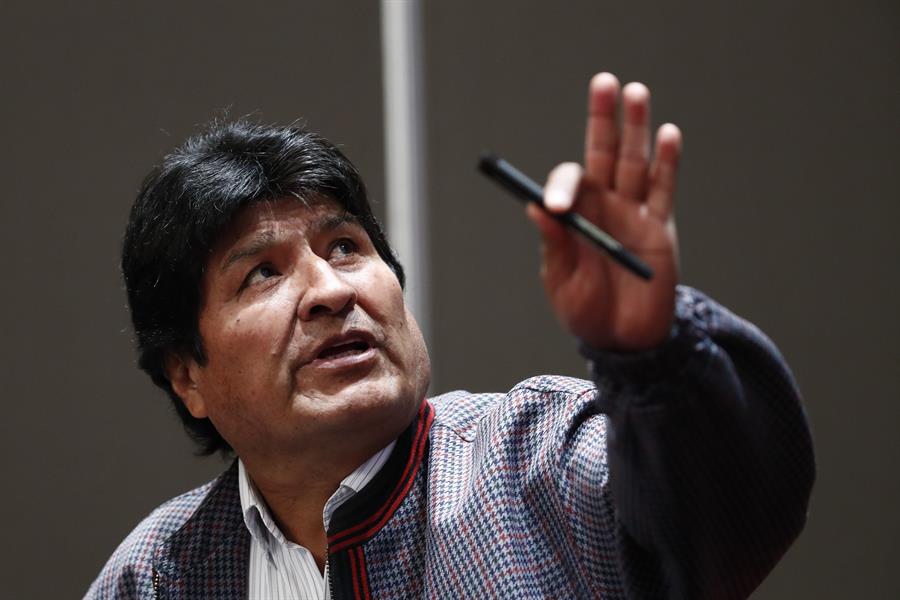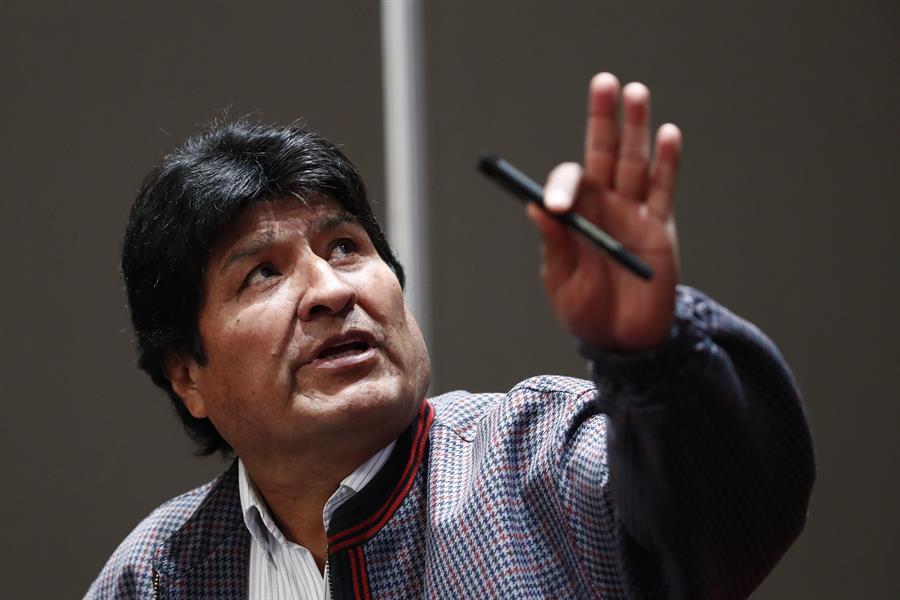 Spanish – The Ministry of Government of Bolivia released the audio showing how Evo Morales is organizing a food and fuel blockade from Mexico against the citizens of La Paz.
"It is not possible for Evo to continue bringing Bolivians face to face and order that they do not receive food. It's a crime against humanity," said government minister Arturo Murillo, who exposed the video and said he would denounce the former president for "terrorism since he has committed crimes against humanity."
"Brother, don't let food enter the cities, we'll block it. It's a real siege. When I was expelled from Congress in 2002, they blocked me. Now I am expelled from Bolivia, and there is a blockade. We are going to win. If the Assembly rejects my resignation, I will try whatever it takes to get back, even if they arrest me," the former president is heard saying.
Furthermore, he orders Faustino Yucra Yarwui, a peasant referent who appears to be talking with Morales in the video, to divide "the union into four or five groups" to extend the siege. "If one group gathers, the people get tired and leave; but if these groups take turns, we will hold the blockade," said Evo.
The origin of the video exposing Morales came from a cell phone seized during a police operation in Morales' most crucial area, Tiquipaya, in the department of Cochabamba.
#PazParaBolivia#LaPaz El Ministro de Gobierno, #ArturoMurillo presenta un video de #EvoMorales llamando a la batalla y ordenando dejar sin alimentos a las ciudades y convocando a dar "combate".

Posted by Periódico Digital Erbol on Wednesday, November 20, 2019
Morales has already been charged with the armed uprising, terrorism, and sedition. The Attorney General's Office admitted these charges and presented by congressman Rafael Quispe and lawyer Omar Duran. The prosecutor in charge will be Jose Yujra.
According to the lawyer, Morales has instigated sedition, terrorism, hatred, and other crimes that led to confrontations among Bolivians, through social media and interviews with international media. Now there is audio-visual material against him.
Hunger as socialism's tool of control
Using starvation as a method of terror is not Morales' original idea, but part of the ideology he professes: socialism. After Russia's withdrawal from the First World War, the Russian Civil War broke out from 1917 to 1923. When Lenin established himself as leader of the Bolsheviks, he ordered that peasants not have access to food because of their supposed complicity in the war against the Red Army, founded and led by Trotsky.
From 1921 to 1922 alone, around five million people died of hunger – especially at the confluence of the Volga and Samara rivers, particularly the city of Samara. People not only practiced cannibalism but even traded human body parts. That was only the beginning, in the early 1930s, during one of the collectivization processes (of agriculture), as dictated by socialism, the then leader of the Union of Soviet Socialist Republics, Stalin, issued the order to expropriate and redistribute. The western Ukrainians, inhabitants of the most fertile area of the USSR, resisted. Consequently, they were condemned to work on the land without being able to feed themselves on it.
It is estimated that around seven million people died of hunger in just one year. This event is known as the Holodomor, which means human-made famine. For there is no lack of food, it cannot be accessed "by orders from above," as Morales intended.
Now he can only instigate from Mexico because if he returns to Bolivia, he will have to answer to the justice system for several crimes. That's why it was convenient for him to provoke chaos to destabilize the current government and proclaim himself a hero, thus avoiding justice.
But his attempt was thwarted. The presidency is still held by Jeanine Añez, who was vice-president of the Senate and now, through the new chancellor, has broken off relations with the allies of 21st century socialism, starting with the diplomatic corps of Nicolas Maduro and the medical missions that Cuba sent for political purposes, from the financing of protests to the spreading propaganda among patients.
While this threat was stopped in time, it exposes both the interest and methodology of the former president and his allies in regaining power.