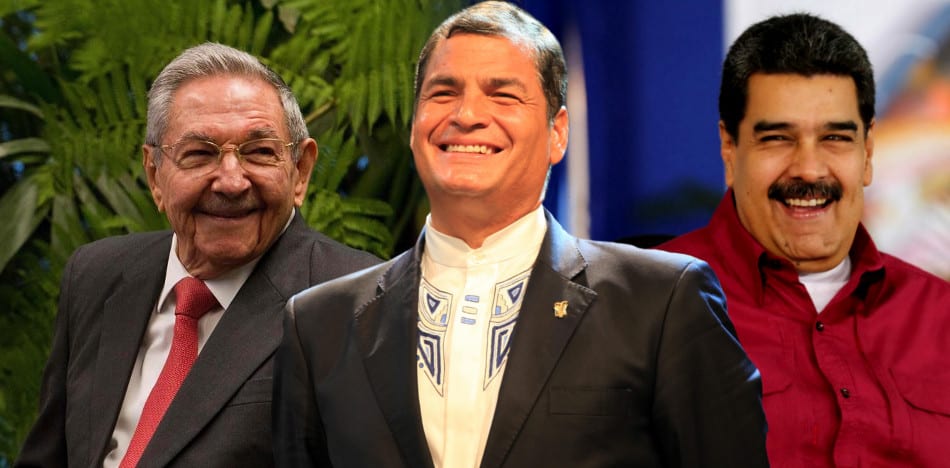 Amidst the protests in the streets of Ecuador demanding the dismissal of President Lenin Moreno, Rafael Correa, a fugitive from justice with an arrest warrant for kidnapping and a request for preventive imprisonment for bribes, traveled to Cuba and presumably to Venezuela, from where he was gestating this break in the democratic process with his allies.
The three-time president of Ecuador, Rafael Correa, asked both in front of the press and through social networks for early elections and offered himself as a candidate for the presidency.
"Correa plotted Moreno's dismissal from Cuba and Venezuela," Juan Fernando Flores, president of CREO Latino (the opposition party that confronted Moreno in the last elections), told the PanAmPost.
#Urgente | Ayer, salieron tras nuestra denuncia, dos aviones Cessna 402 desde el Aeropuerto Arturo Michelena (#Venezuela??), sin registro.

Uno rumbo a #Bolivia ?? y otro, con destino desconocido, hoy Rafael Correa aparece en Europa ?? pretendiendo engañarnos… ¿Casualidad?

— Juan Fernando Flores (@juanflores18) October 9, 2019
Is it valid to say that Rafael Correa is behind the instigation of the protests against Moreno and the demand for his dismissal?
Yes, we have information from more than three weeks ago from different actors about everything that has been orchestrated through the Sao Paulo forum meeting in Caracas. Not only from Rafael Correa, but from various actors of the Correismo who have continuously been traveling between Ecuador and Venezuela to hold meetings with the support of Rafael with other leaders of the United Socialist Party of Venezuela, with whom they have always been working on how to generate an attempt at destabilization that questions the governance and the possibility of maintaining democracy in Ecuador through a social protest.
Therefore, the actions undertaken in recent hours have been with the consent of Nicolas Maduro and the support of strategic communication groups operating there.
The speeches on social media, the tone of the protests, and the demand to advance elections effectively indicate that these people are the ones instigating the demonstrations as well as the violence that is creating conflict in Ecuador.
What is the link between Maduro and Correa?
Both were presidents at the time of the Sao Paulo Forum. They adhere to the same ideological tendency and have been spreading the message of the need to establish a socialist model in the region. The link they already maintained is one of power, of strategy, that they have been developing in the rest of the region to generate this model. It is a model that is not worthwhile for us, and that leads the countries of the area to misery, hunger, and corruption, the latter being a fundamental element of their sustenance.
Do we know anything about Correa's visit to Cuba? Is there an international coalition operating against Moreno? Who would benefit from Moreno's dismissal?
Since last September 15, we have announced that the visits and meetings that Rafael Correa has been carrying out, both in Venezuela and Cuba, and some meetings that have also been taking place in Bolivia, seek precisely to strengthen the coalition that they have formed through the Sao Paulo Forum. The alliance is not only to attack Moreno but to attack different governments that at the time represented the change of their political model.
#ÚltimaHora | Desde allí, Rafael Correa se ha movilizado en un avión de PDVSA a distintos lugares del país, está mañana aterrizará en #Caracas tras reunión con varios "ciudadanos" ecuatorianos. Mismos que llegarón ayer desde #Aruba?? a #Venezuela ??

Sigo el hilo ⤵

— Juan Fernando Flores (@juanflores18) October 8, 2019
As a member of CREO who rivaled Moreno at the polls, how will you explain the importance of defending him until the end of his term?
Today, beyond our political differences, democracy, institutions, the rule of law are all at stake. We cannot allow a small group to impose itself on more than sixteen million Ecuadorians.
They will definitely not be able to seize power by force and wreck democracy in our country. It is an imperfect democracy. But it is precisely what has enabled us to build what we have been developing within the discourse. It is a proposal for a different country, but one that is based on democracy. We cannot allow it to fall because it will give them strength and directly affect the future of Europe. We have to guarantee that our institutions, democracy, the country don't fall in the hands of those who want to finish the country.
What message would you give to those who are outside Ecuador and wish to understand the situation better, and what will you say to those who are in the country regarding what to expect in the coming days?
I would say to them that unfortunately, today, Ecuador is facing power groups and economic groups that are justly seeking destabilization, criticizing the decisions that have to be taken to escape from a model that had submerged Ecuador for more than eleven years along a structure and a path that was not going to lead to anything good.
The message we have to give is what is coming in Ecuador, what Colombia has lived through, what is causing Argentina are actors who seek to harm countries so that they can regain power.
We must be very alert and keep our eyes wide open. If you are sure that what we are seeing is not well-intentioned, it is not a claim that is seeking to recognize rights that people may have, but there are people behind it who are explicitly trying to end the foundations of democracy. Because only by destroying democracy can they remain in power forever. And the best example of that is what Venezuela is currently experiencing.