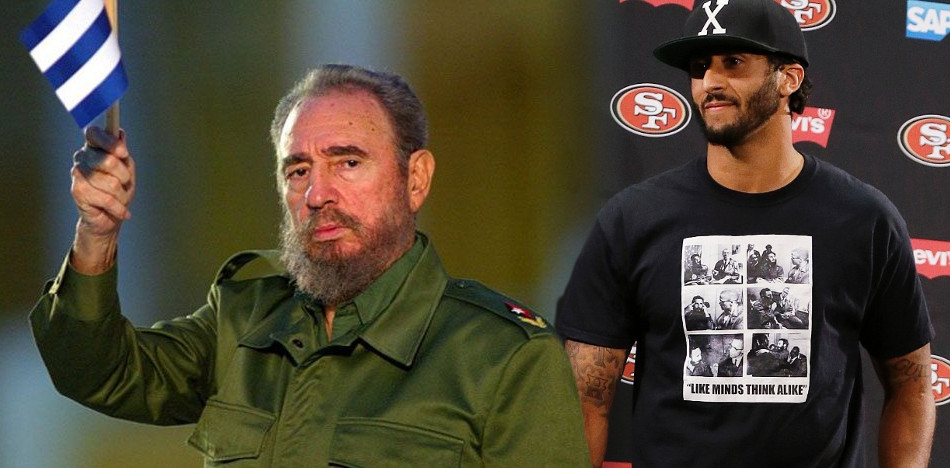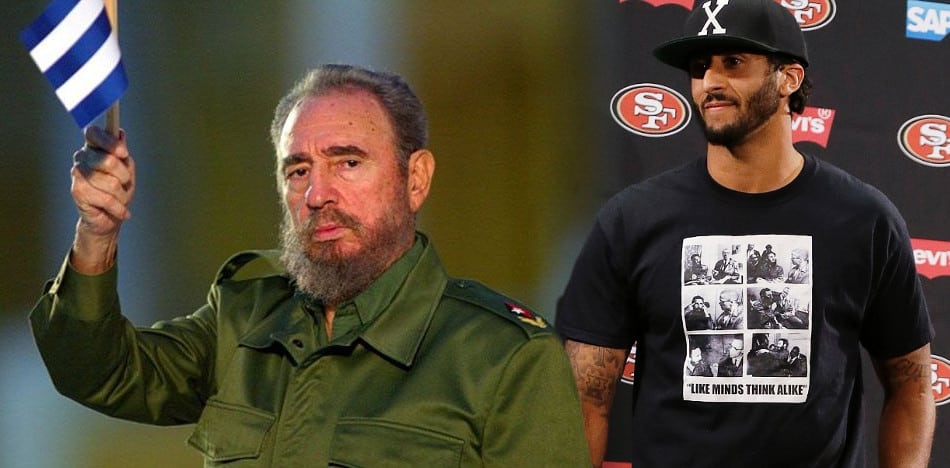 Colin Kaepernick is the new face of Nike's anniversary campaign, but his political activism could cost him his freedom, life, and property in Cuba.
His criticism of US policies led him to literally wear dictator Fidel Castro's face over his heart, in the city of Miami; home to the largest concentration of Cuban exiles.
He donned on a T-shirt that said "alike minds, think alike" in which Malcolm X, key figure of the struggle for civil rights, appeared next to Fidel Castro.
https://www.youtube.com/watch?v=sMYJns6eQEM
It is hypocritical for the athlete who turned into an activist against institutionalized discrimination and oppression in the United States, to completely ignore the systematic discrimination and oppression suffered by anyone who dares to disagree with the socialist regime in Cuba; including, of course, people of color, who he claims to defend.
Markets did not take long to react. In a single day, "Nike shares slipped as much as 3.9 percent to $79 as of 9:31 a.m. Tuesday in New York — the biggest intraday slide in five months", reports Bloomberg.
Moreover, until the Friday before the campaign, "they had climbed 31 percent over the court of this year." Therefore, a steady increase suddenly plummeted due to the athletic brand's association with the iconoclastic quarterback.
Believe in something, even if it means sacrificing everything. #JustDoIt pic.twitter.com/SRWkMIDdaO

— Colin Kaepernick (@Kaepernick7) September 3, 2018
Not only did sales fall, but Nike's decision triggered a viral social media campaign in which conservatives destroyed the brand's products, with some filming themselves burning Nike accessories and gear.
All because Nike chose Colin Kaepernick, an unemployed quarterback with a dismal 1-15 record the last season he played, refused to sing, stand, and put his hand on his heart during the national anthem.
Instead, he kneels and claims to do so because of the systematic oppression suffered by people of color in the United States.
He was booed by the crowds in Miami and immediately rebuked by a sports journalist, born in Cuba, who fled precisely the type of systematic oppression that Fidel Castro made routine and common. Kaepernick, apparently, doesn't see the irony.
Miami-based journalist Armando Salguero fled Cuba as a child in the early years of the revolution.
His parents ended up unemployed for the mere fact because they requested a visa and therefore had supposedly "betrayed" the revolution. They got three. However, a guerrilla member stopped them on the way to the airport and told them, while carrying a rifle, that only two of them could leave and that they had to choose at that moment.
Salguero fled with his mother and his father was only able to join them three years later.
There are endless similar stories. In fact, the journalist invites Kaepernick to read about the Ladies in White: black, white, and biracial women who suffer the systematic oppression of a regime that beats, tortures, and imprisons them for doing what Kaepernick does, questioning the government and refuse to participate in "patriotic" acts; while he does so freely in the US and even gets publicity contracts for it.
But Kaepernick insists that "one thing Fidel Castro did do is they have the highest literacy rate because they invest more in their education system than they do in their prison system, which we do not do here even though we're fully capable of doing that."
By this, he declares his complete ignorance regarding how free speech is prosecuted in Cuba, namely when the flag of the United States is waved.
Old Glory is considered enemy propaganda: waving it can lead to Cubans being committed to a psychiatric hospital, as in the case of Daniel Llorente, locked up a year ago for raising it in front of a Marxist parade (May Day).
In the words of Che Guevara "it is criminal to think like individuals." Therefore, thinking outside the mandate of the revolution is considered a psychiatric disorder.
Since it is considered a criminal act, if it is not declared a mental disorder, it is sentenced as a crime. This happened to Yanet Padrón Naya, secretary of the Cuban Libertarian Party-José Martí, sentenced to a year in prison for "unadjusted behavior" after she pointed at the same flag that Kaepernick rejects, in a picture she wished a happy independence day to lovers of freedom in the USA.
While Kaepernick maintains that Fidel Castro invests more in education than prison, he ignores the police state that might have him put away in a prison, or in a psychiatric hospital, or might have expropriated his home, all for his brand of political activism.
Colin Kaepernick, head cheerleader for the Cuban Communist dictatorship, is a walking study in hypocrisy as long as he claims to fight oppression, but enthusiastically applauds dictatorships.