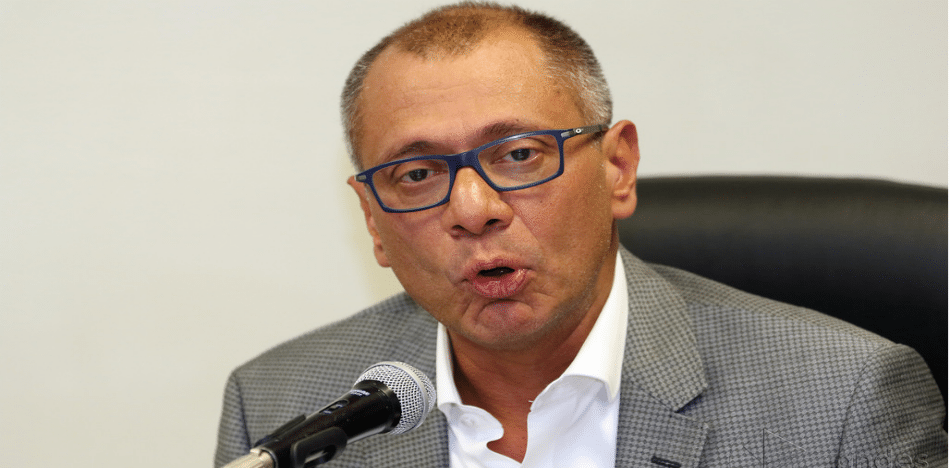 The National Court of Justice of Ecuador has denied the appeal of former vice president, and close Rafael Correa ally, Jorge Glas, who was forced from office in disgrace, and now is serving lengthy prison sentence. Glas served under former Ecuadorian president Rafael Correa, and was reelected vice president under Lenin Moreno, but was soon ensnared in the Odebrecht case.
The case against Jorge Glas began with a preventive detention order, which became effective after the court ruling.
Currently, Correa is a fugitive from Ecuadorian justice, residing in his wife's native Belgium, while he mulls his legal options.
What is clear is that Correa's hand has been significantly weakened, as every legal action against the former vice president provides a precedent with respect to how Correa's case could potentially play out.
The National Court of Justice denied Glas's appeal, meaning he must complete his sentence of 6 years in prison. This was confirmed by Glas's lawyer, Eduardo Franco Loor, on July 30 before the local press.
However, his attorney stressed that they will continue appealing. In accordance with the Comprehensive Criminal Organic Code, it is possible to file a cassation appeal.
Both Glas and his uncle, Ricardo Rivera, who was also imprisoned in the Odebrecht case, filed an appeal with the court on June 8 of this year. Other public officials, including Carlos Villamarín, Édgar Arias, Ramiro Carrillo and Képler Verduga, were also involved in the ruling today However, the court denied the appeals filed by all of the defendants.
Glas's attorney announced that if the court of cassation denies their appeal as well, they will appeal to international courts, although this would clearly be a long shot.
The former vice-president was sentenced on December 13, 2017 for illicit association. In law that means the coordination of a group of individuals with the aim of committing an act contrary to the law.
The criminal conspiracy charges include the accusation that Glas received more than USD $13 million from the Brazilian construction giant Odebrecht. The case has already incriminated heads of state and public employees throughout Latin America and beyond. Peruvian president Pedro Pablo Kuczynski was forced to resign earlier this year in a bribery probe. Despite his conviction, Glas still has enjoyed certain privileges.
For example, until early July, Glas enjoyed personal protection, despite not being in office. The Ministry of Justice, however, recently announced that they were rescinding his security detail. Former president Rafael Correa also has no state security detail, which could further complicate his return to Ecuador to face charges against him for his alleged involvement in the kidnapping of an opposition MP.
Correa has also contemplated the possibility of requesting asylum in Belgium, where has pursued an academic career. His legal situation appears grim, as Jorge Glas's public image has completely deteriorated, and appellate courts have found no merit to his legal claims.
Current president Lenin Moreno was elected in 2017, with the enthusiastic backing of Correa. Former allies, the two have had an extremely public and acrimonious falling out, with Correa accusing Moreno of being a traitor.
Moreno spearheaded a recent referendum which effectively prohibited Correa from running for reelection, if he were to return to Ecuador.
Far from being the placeholder president that many alleged, Moreno has proved to be his own man, and has charted a centrist course, quite distinct from that of his predecessor and mentor.
He also is seeking to expel Julian Assange from Ecuador's embassy in the United Kingdom, where he has been holed up for six years.