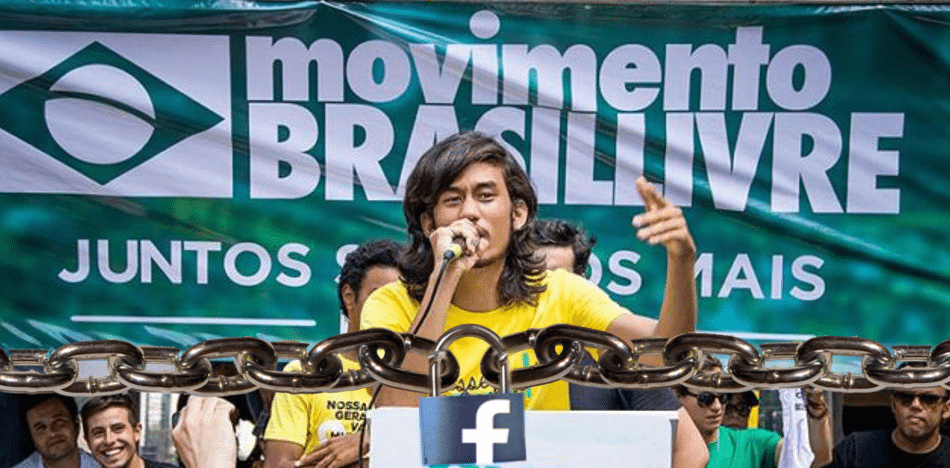 As presidential elections loom in Brazil, Facebook has closed multiple political pages, but its methods hardly appear impartial, with undue scrutiny being placed on the libertarian Movimento Brasil Livre (MBL) party.
Through a statement, on Wednesday, July 25, Facebook closed "196 pages and 87 profiles in Brazil that violated our authenticity policies."
Without proof, Facebook alleged an alleged "rigorous investigation" by which it justified intervening in the freedom of expression and access to information of countless Brazilians, arguing the lack of authenticity of the personal profiles of those who today are questioning the social network as to why their profiles have been closed.
Most of them were part of the Movimento Brasil Livre network, which the mass media has deemed "extreme right", despite being supporters of the legalization of drugs and civil unions for people of the same sex. The party's national coordinator, Fernando Holiday, is black and gay.
At this time Holiday leads the party along side, Kim Kataguiri, grandson of Japanese immigrants and pre-candidate for federal deputy, whose actions and protests were key to achieving the impeachment of ex-president Dilma Roussef. Currently MBL is protesting outside the offices of Facebook in Sao Paulo.
The party is famous for having wreaked havoc on Brazil's left, even at the highest levels of politics.
In the words of Ricardo Almeida, MBL coordinator, in the state of Bahia the "MBL is a liberal-conservative movement that aims to make Brazil a freer, more prosperous, and safer country. Our proposals range from welfare reform to proposals on safety and culture."
The PanAm Post interviewed Almeida, who is also a university philosophy professor, about recent events.
What do you say in response to Facebook's claim that the accounts and profiles in question were closed due to spreading fake news?
Of course it is false that we spread fake news.
First, in general, the news shared by sites linked to the MBL are also disseminated by other means. Second, the indictment does not include any evidence of the alleged false news. Third, an expressive part of the content is opinion and analysis, not news. And fourth, several personal profiles were also shut down, which were not false accounts because they contained detailed personal information.
It is assumed that the action was carried out because the elections are soon. Has Facebook censored any left-wing parties?
We have evidence that Facebook has anti-right-wing orientation. And not exclusively in Brazil, but in other countries such as the United States.
When Mark Zuckerberg testified before Senator Ted Cruz, he was very evasive when answering questions about the political orientation of his company. Basically, Cruz gave the name of several right-wing pages that had been shut down, while there is no evidence that Facebook has done so with left-wing pages.
Why is Facebook targeting the right?
Facebook is using its discretion in order to reduce the influence of right-wing parties, especially of the MBL, in the presidential election, which is coming up very soon.
Social media companies are now targeting specific ideas and ideologies: does this leave a precedent against freedom of expression?
Yes. Not only is it a precedent, but it is a current offensive. Social media is attacking freedom of speech, and I think the situation will only get worse. The social media networks of the world are dominated by few companies. It is very easy for transnational political powers to dominate them, and impose their ideology through the pretext of protecting us all from "fake news" or any other ad hoc reason, invented for the same purpose.
How do you plan to spread your content without Facebook?
We still have many pages on Facebook. Secondly, we have other social networks like Instagram, YouTube and Whatsapp. We are varying our approach in varied networks so as not to be tied to any one specifically
Liberals defend private property and therefore the right of a private company to choose the content that is disseminated on its networks, and to whom it provides its services. How will this affect your cause?
Facebook, although it is a private company, has contractual obligations and its policy is intended to be transparent in relation to that issue. Zuckerberg himself was very clear when he was testifying before the US Senate to say that Facebook is a politically neutral forum.
If people go on Facebook to use it as a tool to disseminate ideas, and then Facebook makes it impossible to do that, the minimum that can be determined is that a breach of contract has been committed, and that Facebook has failed some of its customers with regard to terms of service.
But it is even more than that. Since Facebook is a foreign company, its interference in the elections can be construed as having an impact on the political future of Brazil. It is extremely relevant to the sovereignty of Brazil. It is a very serious issue.