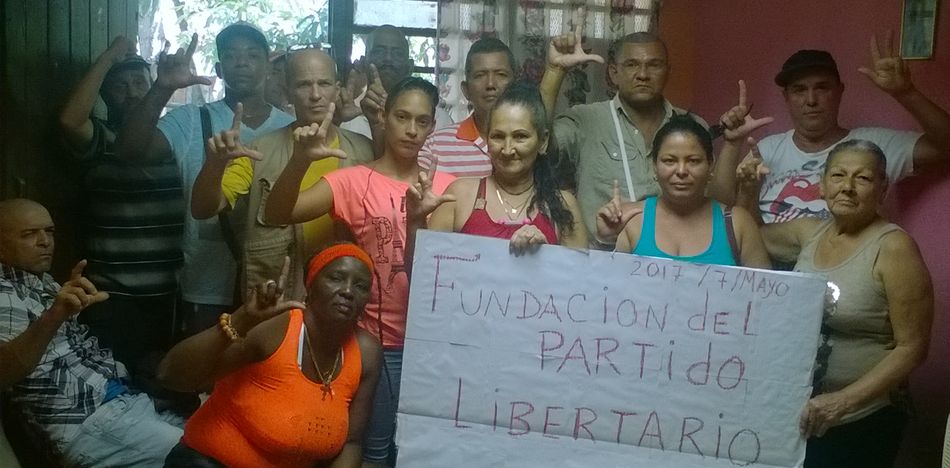 EspañolCaridad Ramírez Utria is a member of the Ladies in White, an organization comprised of mothers, daughters, sisters and wives of Cuban political prisoners who march each Sunday for the freedom of their loved ones despite facing brutal treatment from the regime as well as the regime's supporters.
A year ago she was assaulted during a demonstration and spent 10 days in intensive care, after which she decided to take a break from protests to focus on her health and wellbeing. In that time, she has found a new way to fight against Raul Castro's dictatorship, helping found the island's first Libertarian Party.
With her husband Heriberto Pons, who serves as the party's vice president, Ramírez leads the movement out of her house at the Benjamin Franklin Libertarian Library, often holding conferences there on free market economics and philosophy.
Last week, two members of the party — Nelson Rodríguez Chartrand and Miguel López — went on a hunger strike in solidarity with libertarian political prisoners Ubaldo Herrera and Manuel Velásquez Visea, as well as the Ladies in White. Pons and Ramírez are both paramedics, so they are watching over them during the hunger strike.
The government has not taken the strike kindly . As many as 15 law enforcement officials surrounded the house throughout Wednesday, May 31, entering in the afternoon to arrest, interrogate and beat Rodríguez and López. They were released around 2 a.m. local time, according to other members of the party.
The following day, they all received a ticket and had to report to the state. They were told they had 72 hours to stop the hunger strike or Pons and Ramírez could lose their home. They threatened others with prison.
The PanAm Post spoke exclusively with Ramírez, who recounted what it's really like living as an activist under the current regime.
What do you think was the biggest advantage of creating the Libertarian Party?
The Cuban Libertarian Party aims to bring together individuals who advocate for ideas of freedom and for expanding those ideas to the population that needs it, because it has been indoctrinated by a collectivist ideal imposed for more than half a century. We're trying to demand a greater share of freedom from the government for our people. The advantage is that the more we Cubans demand freedom, the path to achieving it becomes shorter and the free consciousness of Cubans can wake up with more strength and speed. The Cuban Libertarian Party will be the political organization that will make Cubans think like free people.
What changes have you noticed in your life since you became President of the party?
I feel more secure in my struggle, I am better able to face the dictatorship. I feel more confident and proud of what I do, because I am contributing a grain of sand so that future generations will not be confused. Fighting for freedom is a sacrifice that comforts the soul.
What is your biggest fear?
I have no fear. We know that the dictatorship fears freedom and will attack us with no mercy, as they already are, but the more they attack us, the more it shows we are doing things right.
We know that you were a member of the Ladies in White and that you were strongly suppressed.
I was not a member of the organization, I still feel that I am a member of the Ladies in White. I was admitted to intensive care after I was beaten for protesting with Ladies in White, which made me refrain from continuing to participate in the marches. I still suffer the consequences. They are women worth admiring. That is why the party I represent is also part of that organization and we are in solidarity with them.
In addition, we have been thinking about some collaborative actions, which for strategic reasons I will not comment on. I want you to know that besides being President of the Cuban Libertarian party, I am also a Lady in White.
Though it is not easy to face a mob of murderers each Sunday, you have to be there to know what it really feels like.
As an individual, what do you think is your greatest contribution to the cause of freedom in Cuba?
To fight, to fight and to continue fighting for my freedom and the freedom of my people. And the best way to fight for freedom is to think and act freely.
What message would you send to people in Latin America and the world who defend the Castro regime?
My message is for them to not be confused. The Cuban government has been one of the most intelligent dictatorships that has ever existed; indeed, it has been the most intelligent and manipulative. It even confuses many Cubans. Many Cubans have come to confuse freedom with slavery.
Correction: A previous version of this article mistakenly said three members of the libertarian party when on strike. There were only two: Nelson Rodríguez Chartrand and Miguel López.