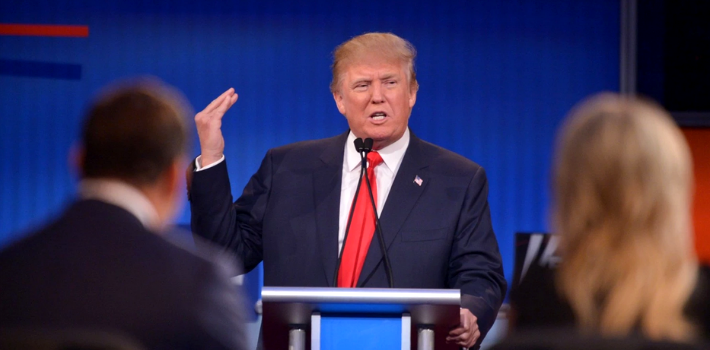 EspañolTo say that politics is full of hypocrisy is hardly groundbreaking. The two have gone hand in hand since their genesis, and together they fabricate a veil of elegance and aesthetics that conceals the most horrid realities.
As politics continues its transformation into entertainment, the candidates have become circus handlers of the public. And hypocrisy — going by its Greek roots — aptly denotes the act of playing, faking, or pretending as an everyday thing. Hypocrisy and "political correctness" are two sides of the same coin.
However, when US presidential candidate Donald Trump bashes illegal immigrants — condemning lowlifes among them, unable to contribute to the country — he is not being hypocritical. His remarks may be offensive, ignorant, and even racist, but not hypocritical; sadly, that is what he genuinely believes.
Trump told the world that the United States was becoming Mexico's dump, sending "criminals, drug dealers, rapists," and other felons beyond the Rio Grande. Mexican officials, outraged at Trump's words, added fuel to the fire by complaining about ill treatment from US Customs and Border Protection agents towards illegal migrants.
Criticism directed at the real-estate tycoon for his incendiary remarks is more than justified, but in this case it comes with colossal hypocrisy. It ignores the fact that Mexico's own standards with migrants — mostly from Central America — are far from ideal. As Amnesty International put it, Mexico is "a death trap for migrants."
In 2014, Mexico announced its Southern Border Program, with the stated goal of protecting the human rights of migrants crossing through the country on their way to the United States. They promised to stand guard against the abuses and dangers that migrants were exposed to during their journey across the country, especially from criminal groups involved in drug and human trafficking and when mounting "the Beast."
In reality, they only prevented migrants from mounting the infamous cargo train.
Mexico has, in fact, initiated a surge in detentions and deportations of migrants. According to human-rights NGOs, Mexican authorities restrict the right to due process of migrants, and detainees are subjected to an array of abuses, including widespread corruption and police brutality. Many of those who are escaping violence in their home countries are forcefully sent right back to face an uncertain future.
[adrotate group="8″]
The misguided move has been a setback for migrants, and it has created a handful of new opportunities for coyotes. They now offer alternative routes, by land and sea, and extract more money from migrants who face even harsher travel conditions than traveling on top of the train. Migrants are more exposed to rape, theft, kidnappings, and even murders.
The journey turns into a trap, and for many it is a deadly event — literally.
This instance of hypocrisy shows the abysmal distance between political reactions and facts. It also hints as to why these politicos have chosen to be hypocrites. If we look at statistics for detentions in Mexico and those at the US-Mexico border, we can see that while the detentions of migrants on US soil have fallen, detentions in Mexico have risen.
Mexico is inevitably the route for Central American migrants seeking solace on US soil. Why would Mexican officials then harden their immigration enforcement towards Central Americans? What does that have to do with human rights?
Don't be hypocrites and thumb your noses at the north. In fact, this change stems from US government collaboration with Mexico and agreements on migration affairs. Mexico is currying favor with her neighbor, building a policy that works more efficiently than a wall.
For good or bad reasons, Trump attracts attention for his raucous, uncouth style. But behind the scenes and far from the lights of the media, there is another reality going on. Trump is just another enthralling character in the political circus, while images of the Beast and the victims of the Southern Border Program are too disturbing and out of reach for the public to notice them.
Trump fills the airtime, but the broken lives of migrants remain invisible, as they fall to the hands of criminal groups or succumb to the sheer difficulty of the journey.
We are the public who lap it up, and so the hypocrisy is ours too.