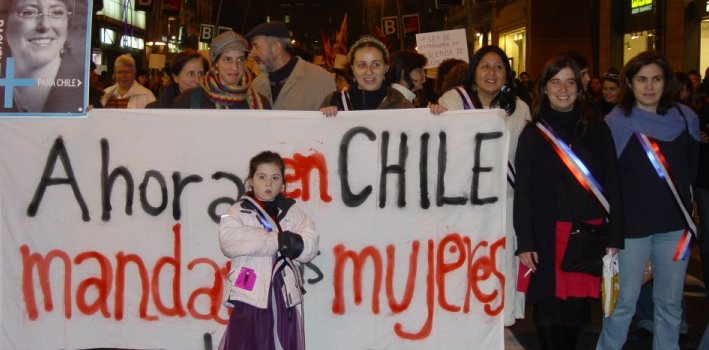 EspañolInternational Women's Day is celebrated on March 8 every year, but I've never cared much for it. Some decades ago, the Soviet bloc used the occasion to applaud women engineers, metal, or construction workers, and give them red carnations. I remember disliking the applause when I was young: not because I saw anything wrong in women being miners, but because I wondered what was really being celebrated.
Somehow I felt the men's applause was a recognition of women who had the courage to be like them, strong and muscular. It struck me as embarrassing, because I felt like an individual, and thought that all our attributes, sex and gender included, should be celebrated in their diversity — not as a limitation or something that determines or constrains us.
On March 8, Chilean President Michelle Bachelet symbolically signed into law the creation of the Women's and Gender Equality Ministry. Honestly, I'll be among the first to applaud its achievements.
It's true that one of the greatest and most pressing challenges in Chile is the low rates of employment among women. But many women are engaged in informal or precarious work to support their families, and as a result don't figure into employment statistics. Often being the only ones providing for their kids, they're invisible to the statistics.
Phallocentrism results in the exclusion, invisibility, and subordination of women, and the paternalism of men.
Of course, this isn't only a problem in Chile: it can be seen throughout the world. However, it's only a symptom of a deeper structural problem within society, which I'll call here "phallocentrism," the name given to it by Jacques Derrida, which is much more forceful than the widely used "machismo."
Phallocentrism identifies what has traditionally, even ancestrally, been the underlying basis for modern societies, their cultures, and forms of political organization — that is, the "masculine." Phallocentrism lays down a universal standard, a norm according to which women are seen and evaluated.
In other words, it means that the feminine is constructed not as an autonomous identity, but as opposed, similar, or complementary to the masculine. From this result the exclusion, invisibility, and subordination of women, and the paternalism of men. And this pattern is produced by the whole of society, even by women themselves.
Yes, it's true that Chile is changing rapidly: there's a female president, and the idea of the new ministry and current debates around women's rights are evidence of it. For now, however, Chile seems to be a society that is chasing certain shadows into the light, while resisting change on other fronts.
We need only listen to the tone of political debate on abortion and the arguments and language used by politicians (including those belonging to the governing coalition) to recognize the blatant levels of paternalism and phallocentrism. It's enough to take a walk through the center of Santiago, full of cafés con piernas, where the women serving coffee in tiny skirts are reduced to little more than a pair of legs.
Sexist societies will crumble if all women stop giving their own support to the outdated structures that contain them.
With regard to the new Women's Ministry initiative, I hope that it achieves everything it sets out to do, because its objectives are undeniably urgent. But I must admit that there's something in it that makes me uncomfortable.
It's that the Women's Ministry somehow singles me out, but in a negative way. It's the same feeling as the Women's Day celebrations of March 8 create for me.
Sometimes in Chile you find public baths where the men's section is in one half, and the other is reserved for women, children, and disabled people; one side for men, and the rest of the world on the other. In the same way, I can't help but feel that the naming of the Ministry for Women and Gender Equality might actually serve to confirm the existing disparity between men and women. Perhaps it would have been better to simply call it the more inclusive Ministry for Gender Equality: men suffer from gender discrimination and outdated gender stereotypes too.
I'm a foreigner living in Chile. There were many practical reasons upon which I based my decision, as well as many emotional ones that sometimes I didn't even understand. Chile and its people have welcomed me in an exceptional way. But being a woman here is sometimes difficult.
To finish, and aside from the ministries, institutions, regulations, and rulings that may work in favor of equality, I want to make a call for women to be our own supporters. Let's support each other, make friends among ourselves, and fight for our cause in all areas of life. Sexist societies will crumble if all women stop giving their own support to the outdated structures that contain them.