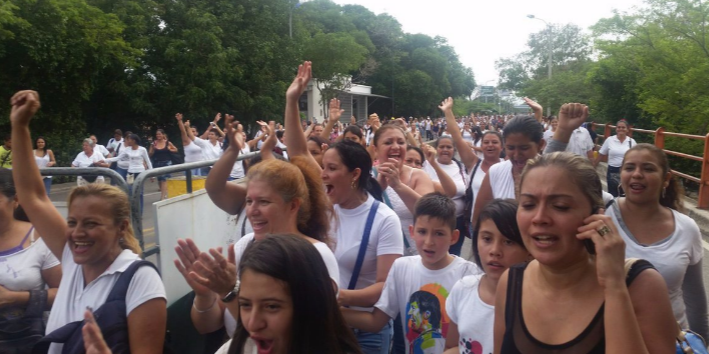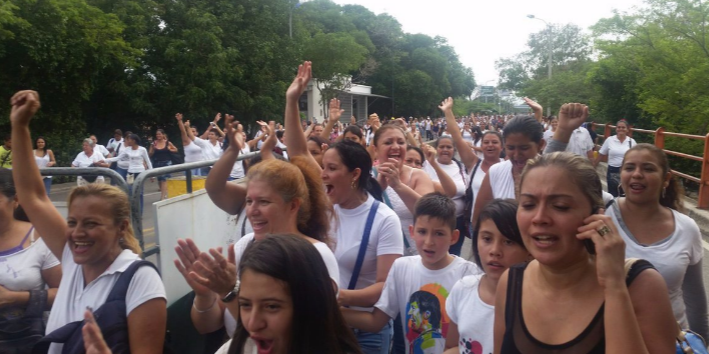 EspañolOn Tuesday May 5, at least five hundred Venezuelan women broke the human barrier created by the Venezuelan National Guard between Venezuela and Colombia. They sought to cross the border and reach the Colombian city of Cúcuta, seeking food in the midst of massive scarcity.
"Thank you Colombia, we did it.  Despite the opposition of the (Venezuelan) National Guard, we are still here. Our children, our families are hungry, we shall keep fighting", said a woman, who celebrated after reaching Colombian soil.
"In Venezuela you can't get anything, there's nothing to eat. We're starving, we're desperate", said another woman as she crossed the Francisco de Paula Santander International Bridge between the two countries, according to Colombia's Caracol news.
The women, which came from the frontier town of Ureña in Venezuela, came to Cúcuta, the capital city of Colombia's Norte de Santander department. They did it despite the border closing implemented by Venezuelan President Nicolás Maduro in August, 2015.
In a video published on social media, women, who are dressed in white, push National Guard soldiers near the frontier. They managed to open just enough space to get through.
Cúcuta
Mujeres venezolanas enfrentan #GNB y cruzan frontera buscando alimentos#A40MesesDeTuSiembraComandante pic.twitter.com/I25kjWRODg

— Nellie Belén Izarza ? ???? (@myteks) July 5, 2016
After crossing the bridge, the women, who were yelling "yes we can!", reached the Escobal area in Cúcuta, looking for transport in order to proceed to the commercial areas.
A source from the Colombian Foreign Ministry said to Efe News that Colombian authorities are intervening in order to find solutions to the crisis.
Likewise, according to Sumarium, a news outlet, the Colombian chancellor, Maria Ángela Holguín is scheduled to travel to the capital of Norte de Santander to deal with border issues in order to "find solutions-"