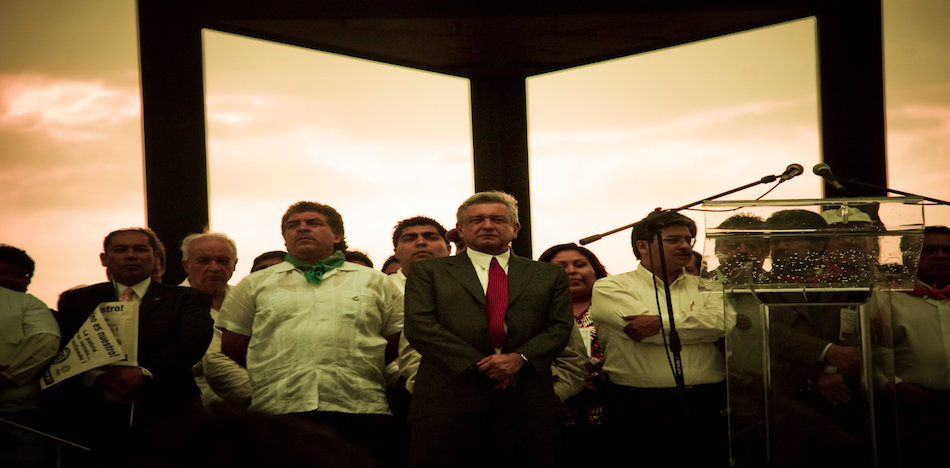 Instead of keeping tabs on how many factories move away from Mexico to the United States, President Trump should instead track the number of assassination attempts Mexican election candidates have had to endure this year.
In the early hours of Tuesday, Feb. 6, Francisco Rojas San Román, PRI party candidate for Mayor in Cuautitlán Izcalli, died from a gun wound he sustained Saturday. This is not an isolated incident.
Since last December, 10 Mexican politicians have been killed as the country prepares for summer elections.
On December 18th the mayor of Bochil, Chiapas, was shot to death. Two days later, a candidate for mayor of Tampamolón was shot to death outside his house. On the 28th, a congressman, a mayor, and a mayoral candidate were all shot to death. On the 29th, councilman Gabriel Hernández Arias from Jalapa had his throat slit in his home. On the 30th, the husband of an ex-congresswoman and a former candidate for Congress were both shot to death. On New Year's Eve, the candidate for mayor of Atoyac, Guerrero, was shot to death on his way home. And finally, last Saturday, the PRI mayoral candidate in Cuautitlán was attacked by gunmen on motorcycles and died late Monday from his wounds.
The threat that these killings pose for the United States, although vastly ignored by the press and President Trump, is two-fold.
First, this kind of carnage across the border is what breeds a class of criminals seasoned enough to avoid border patrol agents and vile enough to cause similar tragedies on United States soil. But more importantly, the political killings threaten to make an already uphill battle against the Maduro-like presidential candidate Andrés Manuel Lopez Obrador (AMLO) next to impossible.
AMLO already has an 11 point lead in the polls, according to Reuters. His support for the nationalization of Mexico's Military Police through the Internal Security Law (ILS), which in effect allows the military to intervene in police matters, has only brought him more praise. And, unsurprisingly in the wake of these killings, so has his support for granting amnesty to drug-lords in exchange for "peace and.. tranquility". 
In AMLO, Mexicans have a candidate who is offering not only to unleash the military against crime but to do away with the scourge of murders altogether through his amnesty deal. Couple that with outlandish, and fiscally unfeasible, social safety net policy promises and it's not difficult to see why AMLO is ahead in the polls.
And make no mistake, an AMLO victory would spell disaster for the United States. His pusillanimous approach to crime (whatever he says about supporting the military) and safety net programs will lead Mexico down the same road as Venezuela. The havoc wreaked upon the Mexican economy, combined with an inevitable increase in crime, will reverse the immigration trend of the last twelve years; millions of Mexican will again attempt to cross the border.
And while the U.S. could handle slow change in the immigration trend, it would collapse under a Mexican exodus of the scale that an AMLO presidency would bring about.
"Mr. Lopez Obrador would be a disaster for Mexico … A collapsing Mexican economy — guaranteed if he implements anything like the Castro/Chavez economic fantasy he admires — would send new millions of Mexicans fleeing across the border into the United States…" said the  TheWashingtonTImes in an editorial.
If the United States continues to ignore the insecurity on its southern border it will have to pay the heavy price of an AMLO presidency. The murder of so many candidates in such little time in Mexico is a cry for help from the country's security forces, and we'd be wrong to ignore it.
"If the election were tomorrow in Mexico, you would probably get a left-wing, anti-American president of Mexico. That can't be good for America." — John Kelly
A safe Mexico with a growing economy would be much more beneficial than any ever-higher wall attempting to hold back the floods of a sinking country. It's time for the United States to do everything it can before the summer election to help Mexico become more secure or risk losing a willing partner in the fight against drug trafficking.