Mexican President Enrique Peña Nieto introduced on Tuesday, September 29, a bill to create three Special Economic Zones (SEZ) in southern states of the country, aimed at attracting foreign investments, creating jobs, and boosting exports.
The two initial areas the national government intends to set aside as SEZs are the ports of Puerto Chiapas and Lázaro Cárdenas on the Pacific coast. If passed, the initiative would also create the Tehuantepec Interoceanic Corridor, which would connect the Mexican Gulf with the Pacific and include the ports of Coatzacoalcos and Salina Cruz.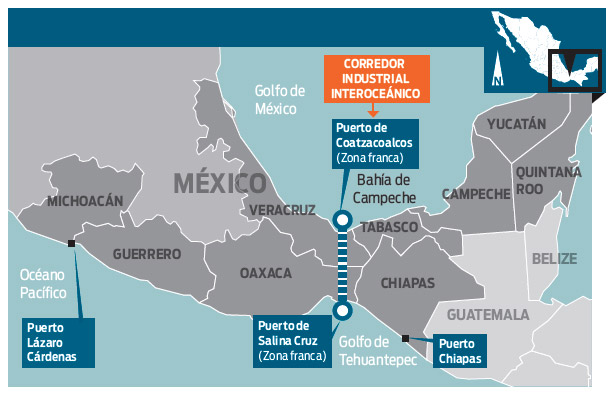 The SEZs are set to "reduce the contrast between the country's north and lowlands and the southern states' marginalization," President Peña Nieto said in Chiapas during the presentation of the proposed bill.
The zones would provide tax incentives, trade facilities, and the simplification of regulatory processes to spur economic development. They would also raise investment in infrastructure, in sectors such as telecommunications and energy, and provide access to credit through Mexico's Development Bank.
The proposal was crafted with the aid of the World Bank, which has helped establish similar policy experiments in places like China, Malaysia, South Korea, and Turkey. In his speech, however, Peña Nieto recognized that not all SEZs are a "panacea." And beyond investments and private-sector participation, he said the effort would also require a capacity to coordinate policy decisions at different levels of government, a long-term vision, and for officials to keep in mind the objectives of higher productivity and competitiveness.
Bridging the North-South Divide
While Mexico's macroeconomic policy has boosted the productivity and growth of areas like the Federal District and the state of Nuevo León, the benefits have not necessarily spilled over to some of the southern states.
Around 74 percent of Chiapas residents, 67 percent of Guerrero residents, and 61 percent of Oaxaca residents live in extreme poverty, according to National Council of Evaluation of Social Development Policy (CONEVAL). Those three states also have the lowest scores in the UN Human Development Index, according to a 2015 report.
A clear recognition that the south is lagging behind and that part of the problem is due to bad incentives created by regulation is already positive, says Mexican economist and policy analyst Pedro Valenzuela Parcero. But the initiative faces several challenges.
First, the president did not recognize the various mitigating factors that may set back the would-be SEZs. "The security challenges in Michoacán are different from those in Guerrero, for example, and from those in Chiapas. And I see no such distinction made by the president in his speech," Valenzuela told the PanAm Post.
There is also a problem of implementation. "Municipal and state-level institutions often don't have the political will or the human capital to set these programs in motion," the analyst explained. If the effort is to be sustained over time, "the government also needs to improve transparency and accountability, as well as making a credible commitment to diminish corruption, for which I see no such effort."
In Mexico, as elsewhere, the success of SEZ initiatives often depends on the size, location, and infrastructure required to sustain them. But a deeper problem is also involved, according to George Mason University economist Lotta Moberg. "Decision makers need both be able to find the proper policies for the zones and have the incentive to implement them," she wrote in a 2014 paper. "They must in other words both overcome a problem of knowledge and one of incentives."