EspañolOne week after the shootings in Paris that left 17 dead, a member of Quebec's opposition separatist party has relaunched a controversial bid to secularize public life in the French-speaking province and outlaw the wearing of crosses or hijabs by government employees.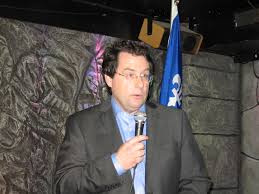 Bernard Drainville, a Parti Québécois (PQ) member of the Quebec National Assembly and a contender in the PQ's ongoing leadership race, held a press conference on Wednesday, January 15, in which he renewed calls for a "Quebec Charter of Values."
Drainville told press that the Charter would help to combat Islamic fundamentalism, and that to delay serious discussion on the issue any longer would mean giving in to terrorists: "You may think this is all bullshit, but I'm telling you, I feel a responsibility to complete this debate."
"If you think it's a good idea to keep shoveling this debate ahead of us, always ahead of us, and never deal with it, and never resolve it, I think we're completely disillusioning ourselves," Drainville added. The representative for Marie-Victorin, Longueuil, also indicated plans to create a "task force" to combat fundamentalism and honor crimes.
Long in the Making
The original Charter was first outlined in September 2013, when the PQ were the provincial incumbents and Drainville the minister for democratic institutions and active citizenship. The product of a year's deliberation, the Charter claimed to promote "harmonious relations and social cohesion for a Quebec that is increasingly multiethnic and multireligious."
Amid the Charter's five elements were proposals to enshrine the separation of religion and state, compel government officials to observe religious neutrality — including a prohibition on "conspicuous religious symbols" by state employees — and a ban on anyone covering his or her face "when giving or receiving government services."
However, the prospective Charter proved contentious within even the pro-Quebec sovereignty party, creating divisions which contributed to the PQ's electoral drubbing in April 2014. Victory by the Liberal Party, which won 41 percent of the vote to the PQ's 25 percent, triggered the resignation of party leader Pauline Marois and served to kick the Charter into the long grass.
But as the PQ's leadership race hots up ahead of internal elections on May 15-17, Drainville has once again drawn attention to the thorny issue of inter-cultural relations in the Francophone region. His renewed activity on the Charter is forcing the five other candidates for the PQ leadership to clarify their stance on the topic, and putting pressure on the government ahead of its own proposals on secularism due to be released later in 2015.
"We have to be very careful," said leadership rival Alexandre Cloutier, sitting in second place. "We have to make sure we don't go too far." Front-runner Pierre Karl Péladeau has yet to make his position on the Charter clear.
Moderate pro-Quebec autonomy party Coalition Avenir Quebec (CAQ) meanwhile urged provincial Premier Philippe Couillard on Thursday 16 to bring forward his own secularism bill and put an end to debate.
Civil Liberties Concerns
While the Charter's latest incarnation has been watered down somewhat, with Drainville excluding existing civil servants, publicly funded colleges, universities, and municipal-level authorities from the ban on religious dress, many have raised concerns on religious freedom and human-rights grounds.
Cara Faith Zwibel, director of the Fundamental Freedoms Program at the Canadian Civil Liberties Association (CCLA), told the PanAm Post that the Charter was contrary to both provincial and national human-rights legislation.
"Any law that seeks to ban the wearing of religious symbols is a rather clear violation of freedom of religion," Zwibel said, "which is protected in both the Canadian Charter of Rights and Freedoms and the Quebec Charter of Human Rights and Freedoms."
There would need to be a "compelling justification" to override existing law, she added, "and I don't think a case has been made that public servants who choose to wear religious symbols detract in any way from the secular or neutral nature of the state."
Zwibel further suggested that the PQ's climbdown on banning religious dress by current state officials was a move to "avoid some controversy," while simultaneously discouraging future applicants likely to wear such symbols.
The CCLA member also argued that, were the Charter or similar provisions to become law, the result may even exacerbate extremism and inter-cultural differences.
"Restricting the rights of individuals (most frequently religious minorities) does not result in a constructive dialogue on issues of diversity. It may instead create an environment where minorities are seen as unwelcome, or serve to further existing tensions."
"the state must not only be secular it must appear to be," except the crucifix in the National Assembly can stay. http://t.co/pOeAEozr1o

— John Michael McGrath (@jm_mcgrath) January 16, 2015
Mixed Messages
Despite its diverse heritage, Quebec has previously shown itself to be markedly against visible symbols of multiculturalism. A 2010 poll by Leger Marketing found that 73 percent of Quebecers supported an outright ban on the burqa, the full-body veil mandated for women in some Islamic traditions, compared to 54 percent of Canadians nationwide.
Some Canadian Muslim groups, such as the Muslim Canadian Congress, have also supported a prohibition on burqas, citing human-rights concerns and claiming the dress has dubious scriptural justification. Morton Weinfeld, a sociology professor at Montreal's McGill University, has highlighted decades of efforts to remove the overt influence of Catholicism in the province as setting a precedent for recent moves towards secularization.
However, Drainville's planned exemptions to the religious symbol ban — including a prominent crucifix in the provincial National Assembly, and a 31-meter illuminated cross on Montreal's Mount Royal — on the grounds of "historical" significance have been criticized by some as hypocritical.
Edited by Fergus Hodgson.