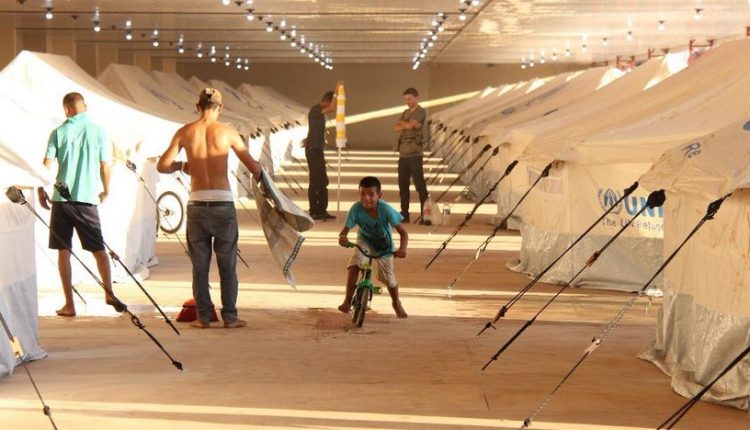 Venezuelan's worsening humanitarian crisis spreads throughout the region at a quickening pace. Despite migratory measures taken by many Latin American governments, the massive displacement of Venezuelan refugees keeps increasing.
Thousands of citizens continue to flee the socialist country due to the economic, political and social hardships, which pushed the United Nations to intervene and try to grant those migrants access some basic human rights, such as shelter.
And as some governments elect to try to stop the flow of refugees, the United Nations is making a renewed push to convince bordering nations to shelter and feed them instead.
The United Nations Refugee Agency (UNHCR) has called on Venezuela's neighbors to put in place measures that speed up Venezuelan's legal status in their territories. The long waiting periods to allow migrants a legal stay, in addition to the high costs of these processes, has made it so many of the refugees remain as illegal aliens. This in return subjects them to be "particularly vulnerable to exploitation, human trafficking, violence, sexual abuse, discrimination, and xenophobia," says the humanitarian body.
Facing this situation, UNHCR insists on reminding bordering nations that "in view of the situation in Venezuela, it is crucial that people are not deported or forced to go back" and "that governments adopt pragmatic protection responses" including visas, permits, temporary residence or other regularization programs, "that can grant them access to basic rights of health, education, family unity, freedom of movement, shelter and the right to work."
At the same time, UNHCR has chosen to work with local governments and develop alliances with other international organizations and non-governmental organizations to provide protection, access to food, potable water, and health services.
New shelter for Venezuelans in Brazil
Some of these alliances led to the recent opening of a new shelter in the border Brazilian city of Boa Vista in the state of Roraima to aid Venezuelans there.
El ACNUR y el Gobierno Federal de Brasil abrieron un nuevo albergue que proporcionará un espacio seguro y digno para las familias venezolanas que desean reconstruir sus vidas en dicho país.

Foto: ©ACNUR / Reynesson Damasceno pic.twitter.com/ti8YFGVurs

— Acnur/Unhcr Américas (@ACNURamericas) April 2, 2018
According to the UN agency, the shelter will provide a "safe and dignified" space for Venezuelan families "who wish to rebuild their lives in that country."
The newspaper Gestión reported that in 2017 approximately 40,000 Venezuelans arrived in Roraima, one of the poorest states in Brazil, which forced the Brazilian Government to declare the locality in "situation of vulnerability" and encourage studies to relocate the Venezuelan immigrants in different sectors of the country.
Despite sharing a border with Venezuela's, Brazil has not been as affected by the massive Venezuelan exodus as other countries in the region.
According to the International Organization for Migration (IOM), until 2017 the presence of Venezuelans in other South American countries reached 885,891 people, which represents 50% of the migrant population of that country.
The IOM investigation indicates that previously the main destinations were the United States and Spain; however, in the last two years there has been an increase in the migration of Venezuelans to other South American countries, with Colombia being the favorite (bordering Venezuela), and Chile in second place (easier to get to than Brazil for many).
For 2017 Colombia reported having 600,000 Venezuelans in their country, and Chile about 119,000. A large percentage of Venezuelans enter Colombia to then continue to other destinations. This trend has intensified in recent months, with the primary destinations being Ecuador, Peru, Chile, the United States, Panama, Mexico, Spain, Argentina, Brazil and Costa Rica, according to the report.
The UNHCR has insisted it will continue working to enhance cooperation with governments to ease the reception of Venezuelans, and said that it has already managed to develop "a regional response plan that covers 8 countries and the Caribbean sub-region."