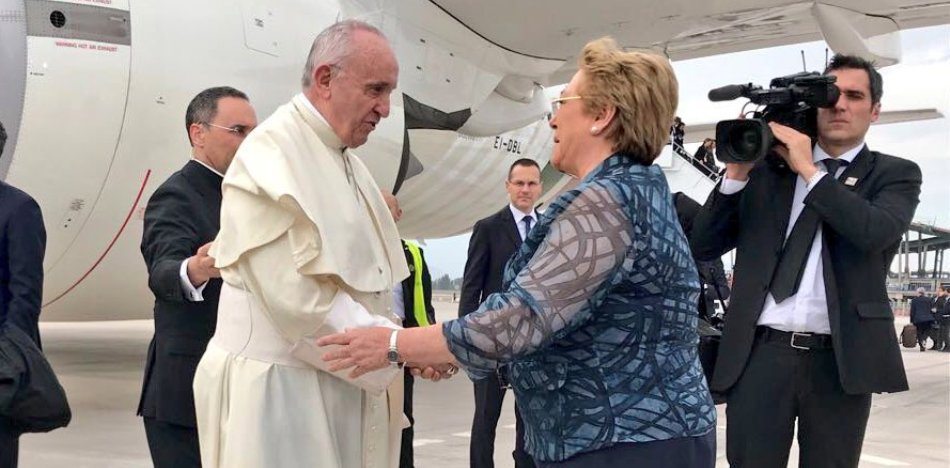 EspañolPope Francis arrived to Santiago de Chile on Monday, January 15 for a three day visit, and will have to face tensions over attacks on churches, threats against him and protests over accusations of abuses by the Catholic Church.
At least six churches have been bombed in three days, and one threat said the next bomb will be in Pope Francis's cassock.
According to CNN, protests were expected with the arrival of the pope, most of them "about the sexual scandal" surrounding Fernando Karadima — a Chilean priest convicted in 2011 for sexually abusing children— as well as about 80 other priests who have been accused of the same crime.
Despite this, the Pope said that "it will not be a difficult journey."
"I studied here and I still have many friends," he said. "And I know Chile well."
Fifty-nine percent of Chilean citizens described themselves as Roman Catholic in a recent survey conducted by the consultancy group Latinobarómetro. Thats a 21-percent drop since 1995. One of the objectives of his three-day trip is to reverse that trend.
Vatican Secretary of State Pietro Parolin said that during his stay in Chile, the Pope will visit a women's prison, meet with inhabitants of the southern Araucanía region — including indigenous Chilean and Argentine Mapuche groups — as well as with two victims of the Augusto Pinochet dictatorship.
"I do not think it will be an easy trip, but it will be a really passionate one," Parolin said.
Once his trip to Chile is over, Pope Francis will continue onto Peru, where there might also be protests due to other accusations of abuse by church members.