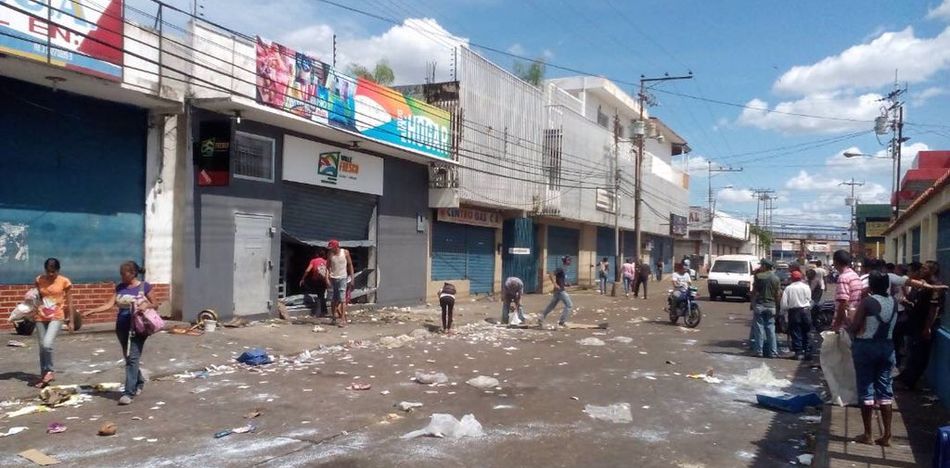 EspañolThe economic crisis and the food shortage in Venezuela is so serious that looting has become commonplace throughout the country. In January alone, nearly 400 small protests and more than 100 instances of looting have taken place across 19 states, according to the Venezuelan Conflict Observatory.
On Saturday, January 13, Venezuelans began looting for food in the states of Guárico and Zulia.
In Maracaibo — the capital of Zulia — residents looted a supermarket after waiting hours in line to buy corn flour. Violence broke out when they were informed that only members of pro-government community councils could make purchases.
"People were upset," Ana, a mother of two, said. "There were people waiting yesterday. They started to open the doors (of the supermarket), to get in and grab packets of flour, but the police arrived."
A similar situation occurred in the town of Calabozo. According to the opposition party Vente Venezuela, it has become "totally paralyzed following mass looting." According to opposition Deputy Carlos Prosperi, a government supply network known as Mercal and "several shops on tenth and eleventh avenue" were looted.
The Bolivarian National Guard has been tasked with keeping the area in order with gunshots and tear gas, but the situation seems irrepressible.
https://twitter.com/AndrewsAbreu/status/952275342080831489
#BREAKING Tough situation in Calabozo, #Guárico. The GNB does not seem to be able to control the looting or the amount of people on the streets. There are even helicopters flying over some areas of #Calobozo #January 13
"Until we solve the humanitarian hunger problem, protests will become more and more common," Congressman Carlos Paparoni, of Mérida, said.
URGENTE!! Pueblo hambriento en Guárico enfrenta a la Guardia Nacional para saquear centro de acopio de alimentos de Calabozo: Reportan detonaciones y lacrimógenas. (2) pic.twitter.com/NvlaU1LhgU

— Gabriel De Mendonça (@desagabriel1383) January 13, 2018
URGENT!! The people are going hungry in Guárico, and facing off against the National Guard in an attempt to access Calabozo stockpiles. There have been reports of teargas. 
The situation in Venezuela is becoming increasingly worse. Inflation has reached 2,616 percent and the minimum monthly salary is at US $5 — barely enough for a kilo of meat and a carton of 30 eggs.
If that weren't enough, the government has subsidized the food program known as CLAP. The program's boxes are sent to the poorest areas of the country, and millions of families depend on them.
On January 11, a group of Venezuelans desperate to find food broke into a farm in Merida and dismembered about 40 cows for their meat.
According to Manuel López, President of the Association of Agricultural Producers of the Sur del Lago area, criminals go from farm to farm, extorting producers and asking them to give up an animal. If they don't,  they destroy everything.
Video aficionado recibido de como están cazando y sacrificando las reses en las fincas de la zona sur del lago.#Mérida..#11ene ..@ReporteYa ..@ElNacionalWeb pic.twitter.com/oeSm4w8Oql

— Leonardo León (@leoperiodista) January 11, 2018
Video obtained of the common practice of killing and stealing cows for beef in Sur del lago farms. #Merida #Jan11 @Breaking @ElNacionalWeb
The situation has led many ranchers and businessmen to pay armed groups to secure their properties.
"The desperation, impunity and serious humanitarian crisis that we are experiencing in Venezuela continues to deepen and is leading people to commit this type of crime," Coordinator of the Venezuelan Conflict Observatory, Marco Antonio Ponce, said.
"This situation continues to worsen throughout the country given that it's impossible to get food," he said. "In the absence of imported products and in the absence of national production, we are experiencing a rather critical situation of scarcity of the few products that we still have in the country."
A propósito de los saqueos en Calabozo registrados en las últimas horas, es bueno recordar que ¡El socialismo y los saqueos finalmente traerán pérdidas a todos! ¡Defiende #TuPropiedad! pic.twitter.com/tBj9GDLW5o

— Cedice Libertad (@CEDICE) January 14, 2018

After the looting in Merida during the last few hours it is important to remember that socialism and looting will ultimately be bad for everyone Defend #YourProperty!
According to the Program for Human Rights Education and Action, the economic crisis has forced Venezuelans to buy pet food.
"I just came back from the Central Madeirense of the IPSFA [Caracas] and saw how they were voraciously grabbing packages of frozen meat for dogs," Coordinator Rafael Uzcátegui said. "In line, I discovered that they were not getting them for their dogs."
Meanwhile, Climax Magazine reported that the situation in Venezuela has reached such a serious level, that prostitutes are accepting food as payment for their services.