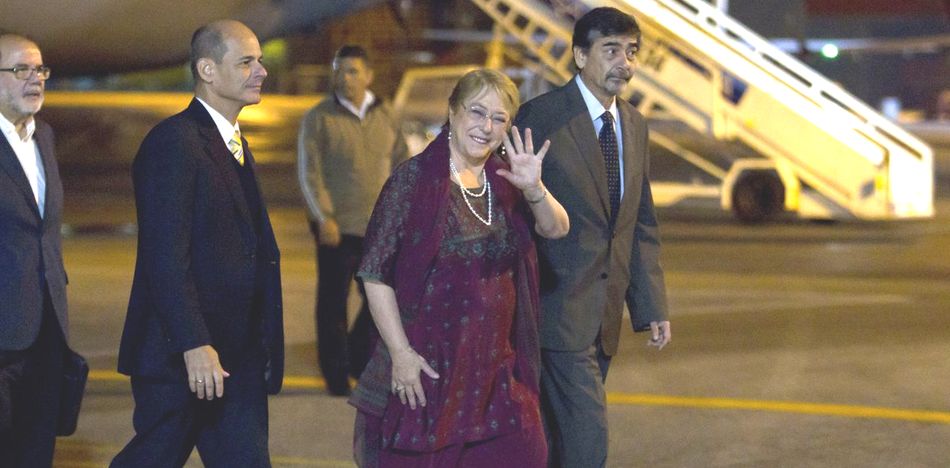 EspañolChilean President Michelle Bachelet arrived in Cuba this Sunday, January 7 for a visit with top officials that has proven controversial from the start.
Bachelet's trip is scheduled to begin with a speech at an economic seminar titled, "Perspectives of Trade and Investments: Chile-Cuba." Afterward, she will meet with the Cardinal Presbyter of Santos Aquila and Priscila and Archbishop Emeritus of Havana, Jaime Ortega Alamino. On Monday afternoon, she is scheduled to meet with President Raúl Castro.
Bachelet will also attend the "Chile Lindo Infantile Circle" as well as the Chilean Cooperation in Cuba at the Salvador Allende Pedagogical School. She is also scheduled to participate in a wreath-laying ceremony for José Martí.
Arriba a #Cuba?? @mbachelet en visita oficial│@JuventudRebelde publica una síntesis biográfica de la presidenta de #Chile?? https://t.co/1LmOYhLGa9│@GobiernodeChile @presidencia_cl @segegob @Minrel_Chile pic.twitter.com/5GoYLeuyqf

— Cancillería de Cuba (@CubaMINREX) January 7, 2018
Chile's Minister of Foreign Affairs Heraldo Muñoz said the meeting with Castro will focus mainly on promoting the country's investments and friendship "with a country that has influence." Even so, the trip has been strongly criticized.
A quien le sorprende que Bachelet termine su gobierno viajando a Cuba? Ella siempre ha sido admiradora de Castro y dictaduras comunistas en todo el mundo mostrando profundo desprecio por DDHH, como la mayoría a de la izquierda chilena.

— AXEL KAISER (@AXELKAISER) January 3, 2018
Tweet: Is anyone surprised that Bachelet will end her term by traveling to Cuba? She has always been an admirer of Castro and communist dictators all over the world who show a blatant disregard for human rights, just like the majority of the Chilean left. 
"President Bachelet's trip to Cuba seems to be based more on personal preference than state policy," CNN Chile commentator Daniel Matamala said. "It weakens Chile's image as a country committed to the defense of democracy and human rights."
Deputy José Antonio Kast, an independent, said the President should stay in Santiago instead of continuing to spend Chilean resources on a "romantic farewell trip."
Senator Juan Antonio Coloma, on the right, said the trip is "deeply inopportune" politically because Bachelet should not finish her term by going to the country with the "least democracy and freedom."
No me parece mal el viaje a Cuba de la Presidenta Bachelet, es más, si agregara una visita a Nicaragua y otra a Venezuela, podría pasar a la historia como "la gira del socialismo fracasado".

— Manuel José Ossandón (@mjossandon) January 3, 2018
Tweet: I don't see anything wrong with the trip by President Bachelet to Cuba, as a matter of fact, she should make a stop at Nicaragua, and another in Venezuela. She could go down in history as "the failed socialist state world tour". 
Several Chilean deputies and senators signed a document asking Bachelet to reject the "systematic violations of human rights suffered by groups opposed to the Cuban dictatorship during her trip to Cuba." They asked the President to meet not only with Cuban officials, but also with the opposition and organizations representing civil society.
It was signed by socialist and former presidential candidate Alejandro Guillier as well as Deputy Rabindranath Quinteros. Members of the center-left Christian Democratic Party also signed the petition.
President-elect Sebastián Piñera and Cuban opposition Rosa María Payá expressed their concern, asking Bachelet to do the right thing by meeting with the island's political opposition. "If I were President and I visited Cuba, I would meet with the dissidence and with the Cubans who are fighting to recover their own democracy, freedom and rule of law," Piñera said.
Payá said supporting human rights is of the highest priority. "The least (Bachelet) can do, since she is going to meet with the oppressors of the people, is to encourage them to submit to the sovereign will of the citizens," she said. Payá also stressed that the Cuban regime is in a period of "great vulnerability." Inviting the Chilean President to visit is only a "desperate play to regain legitimacy a few months before deciding Castro's heir."