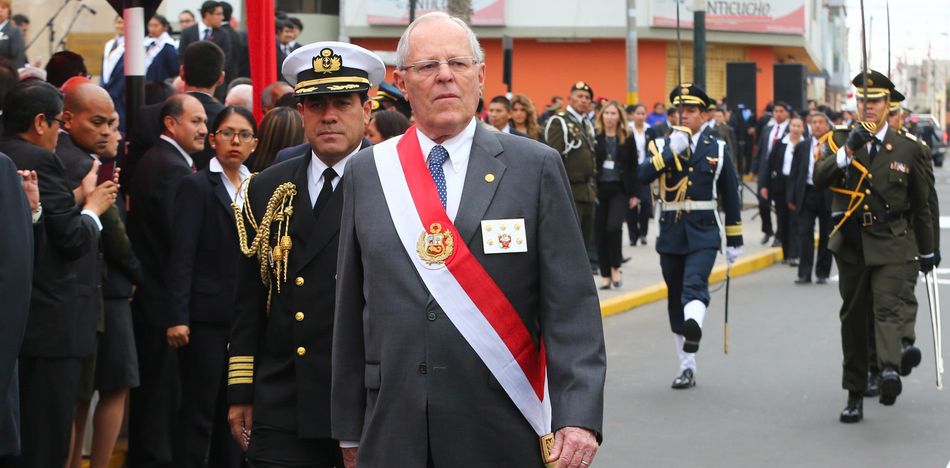 EspañolPeruvian President Pedro Pablo Kuczynski may have avoided impeachment, but he still faces heavy criticism for pardoning former President Alberto Fujimori, who was convicted of murder, kidnapping and corruption.
The decision to pardon Fujimori cost Kuczynski not only the support of the country, but also of numerous politicians and hundreds of writers, who have decided to raise their voices in protest of his decision.
More than 230 Peruvian writers, including award-winning authors Alfredo Bryce Echenique, Fernando Iwasaki and Nobel Laureate Mario Vargas Llosa, voiced their strong rejection of the pardon through the letter.
"(Fujimori) was responsible for a coup d'état as well as the dismantling of our institutions, and his pardon demonstrates a lack of appreciation for dignity, equality before the law and the right to remember wrongdoing," the statement said.
It goes on to call the pardon "a treacherous covenant between political forces interested in controlling the effects of corruption cases they are involved in, as well as perpetuating injustice and impunity."
Vargas Llosa also wrote a column in the newspaper El País over the weekend. "Those who in the last presidential elections voted for Kuczynski believing that in his term there would be no pardon for the dictator who ravaged Peru, committing terrible crimes against human rights and stealing under the cover of darkness, we have contributed without knowing or wanting to, to giving power once again to Fujimori and his people."
He also said that Kuczynski, "with his secret pact, has not made use of the former dictator, but rather he has become his accomplice and hostage." If Fujimori is not pleased, he will "continue to overthrow ministers," the column claimed, because Fujimorismo has the "control of Parliament" and "40 percent of voters who supported Keiko Fujimori in the elections".
Vargas Llosa concluded his column in El País by saying that, "I would never have imagined that behind the good-natured figure of a benign technocrat like Kuczynski, a little Machiavelli was hiding in intrigue and lies."
Some have reported that Kuczynski pardoned Fujimori in exchange for an agreement from Fujimori's supporters in congress to not vote for impeachment. According to s poll conducted by Ipsos, 63 percent of Peruvians believe this to be the case.
Even Fujimori legislator Maritza Garcia said pardoning Fujimori tipped the scales in favor of the President during the impeachment vote. Fujimori himself reportedly called her from jail and told her not to vote to impeach.
Fujimori's pardon was announced on December 24, just three days after Fujimori's congressmen (including Kenji Fujimori, the son of Alberto Fujimori) abstained from voting on grounds of "moral incapacity."
Though Fujimori's pardon has caused dissatisfaction throughout Peru and criticism toward the President has increased, another Ipsos poll said six out of 10 Peruvians approved the pardon.
"Approval of the pardon has gone down, from 65 percent to 56 percent," Alfredo Torres, CEO of Ipsos Peru, said.
The poll showed that 58 percent of respondents said they approved the pardon due to the former head of state's health. Another 39 percent believe that the sentence is excessive, and that he has served enough time in prison, while 17 percent believe the move will help national reconciliation. The remaining 15 percent believe it will help with political stability and nine percent believe the pardon did not have ulterior motives.
Forty percent of those who disapprove of the pardon said they were against the decision if it was motivated by by Kuczynski's crimes. Thirty-three percent said they believe Fujimori must serve out his sentence. Thirty percent believe the pardon is an offense to the families of those who died, while 19 percent think the pardon will worsen the country's political situation. Fifteen percent said the former President is not even sick.