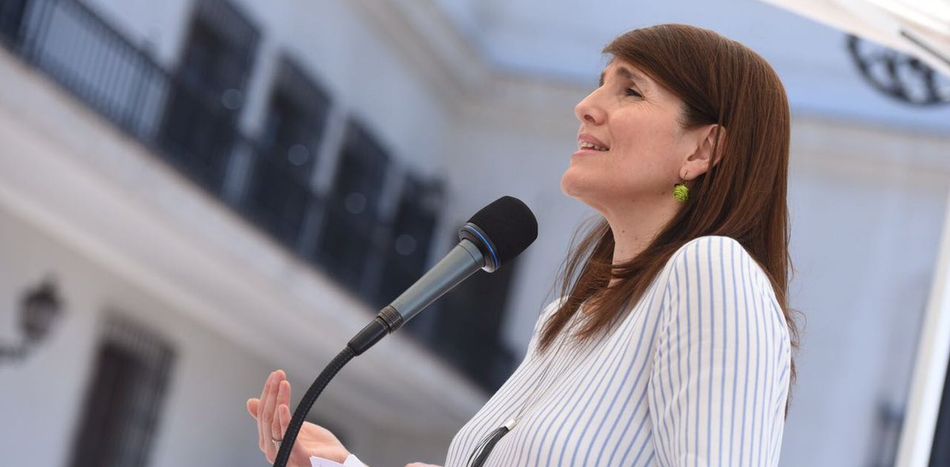 EspañolAs Chilean President Michelle Bachelet's term nears its end, she has made it a priority to get constitutional amendment proposals to parliament.
Spokeswoman Paula Narváez said some of the bills were originally expected to go into "final review" last October before being sent to Congress some time in January. As officials work to adjust the legislative agenda for the coming weeks, Narváez said they will prioritize gay marriage and gender identity.
"In the case of marriage equality, we want to open a legislative body that will allow the debate to continue further," Narváez said.
She added, "the Gender Identity bill is very urgent. In two weeks, the Human Rights Commission will send delegates to the Chamber of Deputies, who meet next week, and we believe that it would be very important to get these proposals passed."
A bill to "modernize" the immigration law intends to regulate income, among other things. But Narváez said it will take time.
Another bill seeks to split up the National Service for Minors by separating the responsibility of protecting minors from those that handle minors who have broken the law."It's a very complex bill. It was a legislative initiative that implies a lot of spending," she said.
#LeyDeMigraciones tiene 4 ejes: 1) sistema de principios, derechos y deberes; 2) regulación de ingreso, salida y categorías migratorias.

— Archivo de la Presidencia 2014-2018 (@archivo20142018) August 21, 2017
Pdta: "Es un proyecto que promueve la migración segura, que busca evitar que las personas sean víctimas de redes de tráfico o de trata".

— Archivo de la Presidencia 2014-2018 (@archivo20142018) August 21, 2017
Regarding free higher education in the public university system and the pension bill that seeks to create collective savings and an increase of five percent to employer taxed contributions, Narváez said Bachelet's administration would "continue with great effort" to make progress, but also asked that their supporters "understand that they have a time limit" that isn't conducive to the amount of broad debate that is required in bringing it to fruition.
Este comic refleja la lógica izquierdista pic.twitter.com/bLd0BvL4Nc

— Thomas Bowman (@tbowman3076) December 16, 2017
The New Constitution
The constitutional reform project was supposed to include each of these proposed changes, and should have been a priority for the Bachelet administration, many have said. It was one of the main issues that she campaigned on, but it was left for the last minute. With 74 days remaining in office, Bachelet still has not sent parliament her proposal, and its approval or rejection will take place under the new government.
Narvaez confirma que el gobierno enviara proyecto de nueva constitución durante enero a menos de dos meses de cambio de gobierno y renovación del congreso

Cual es el objetivo?

Decir que cumplió?
Armar una discusión sin sentido?
Realmente aprobar algo?
Molestar a Piñera?

Cual?

— Thomas Bowman (@tbowman3076) December 27, 2017
"By allowing their time to run out without having prioritized the government reform project they have demonstrated that they have not listened to the people," Vice President of the Independent Democratic Union Party, Juan Antonio Coloma, said.
"I would have liked to see the government make an effort to ratify broad agreements, mistakes or finally innovate in matters that are important for people seeking broad agreements," he added, noting that for Chileans, the priorities are focused more on issues such as crime, education and not in "changing power structures through constitutional reforms."
President-elect Sebaastian Piñera supports "perfecting" the constitution, "but not as a tool for an election campaign." He said he agrees that the Chilean constitution should be "perfected, but only in a climate of unity and collaboration."
"We are ready and prepared to have a democratic debate without thinking about the next election, but rather about the next generation," he said. "Because that is the true mission of a constitution in a civilized, free and democratic country."