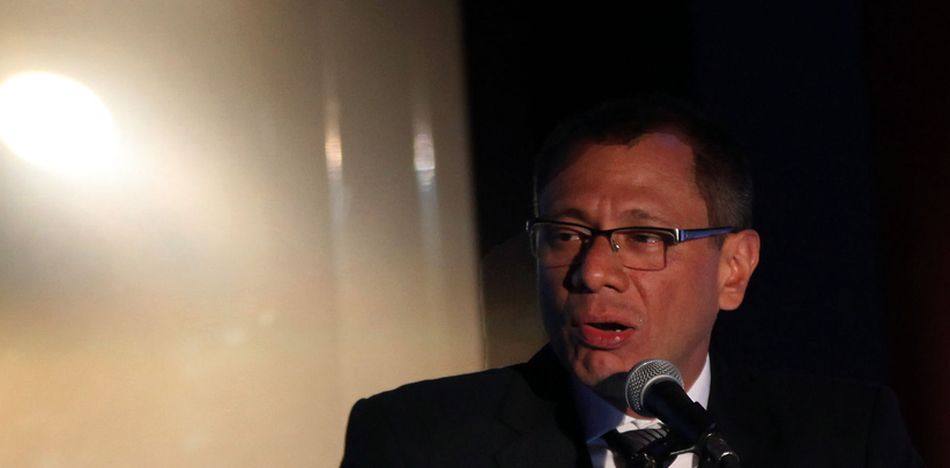 EspañolThe Legislative Administrative Council of the National Assembly of Ecuador is moving forward with an impeachment trial for Vice President Jorge Glas, who was sentenced to six years in prison for his involvement in a bribe scandal involving the Brazilian construction company Odebrecht.
The trial was unanimously approved by the four members of the Assembly —known in Spanish by the acronym CAL. The four members were: President of the Assembly José Serrano, Carlos Bergman (both of whom are members of Alianza País), Patricio Donoso (CREO) and Luis Fernando Torres (Social Cristiano). The Correa-supporting assembly members Soledad Buendía, Verónica Arias and Viviana Bonilla were absent.
"I moved to vote to begin the trial and the four members of the CAL unanimously approved," Assembly-member Luis Fernando Torres tweeted.
Now, the Ecuador's Investigation Commission will set a five-day deadline for Glas and his attorney, Eduardo Loor, to present evidence showing Glas is innocent.
Por unanimidad de los presentes en #CAL se decidió dar inicio a tramite #JuicioPolítico a Vicepresidente Glas, cumpliendo con los procedimientos que la Constitución manda, y se ha remitido a la Comisión de @FiscalizacionAN, para luego seguir con los siguientes pasos #TelediarioEC pic.twitter.com/NhAwN5Miw1

— José Serrano Salgado (@ppsesa) December 27, 2017
Those present at the #CAL voted unanimously in favor of beginning the legal process to impeach Vice President Glas. The process consists of interrogating and eventually removing an official for one of a number of reasons, including crimes against the state like extortion, bribery, embezzlement and corruption.
Glas, 48, has been in jail under preventative custody since October 2, relieved of his duties during that time. Former Minister of Housing María Alejandra Vicuña took over as interim Vice President.
January 2 will mark 90 days since Glas left his post. The constitution stipulates a 90-day period for initiating a judicial case. According to Serrano, the need to continue the trial will be evaluated on that date.
Glas is one of 18 officials being investigated for ties to bribes that were allegedly paid out by Odebrecht for contracts granting regular access to petroleum in a section of the Amazon located in the Sucumbíos province.
According to the Ecuadorian National Court of Justice, Glas allegedly received US $13.5 million from the Brazilian construction company in exchange for awarding it five projects between 2012 and 2016.
Despite the evidence and the judgments against him, Glas continues to deny having been part of the corruption scheme. According to Glas, this process is just an attempt at political persecution involving a "pact between the prosecution and the Odebrecht informer."