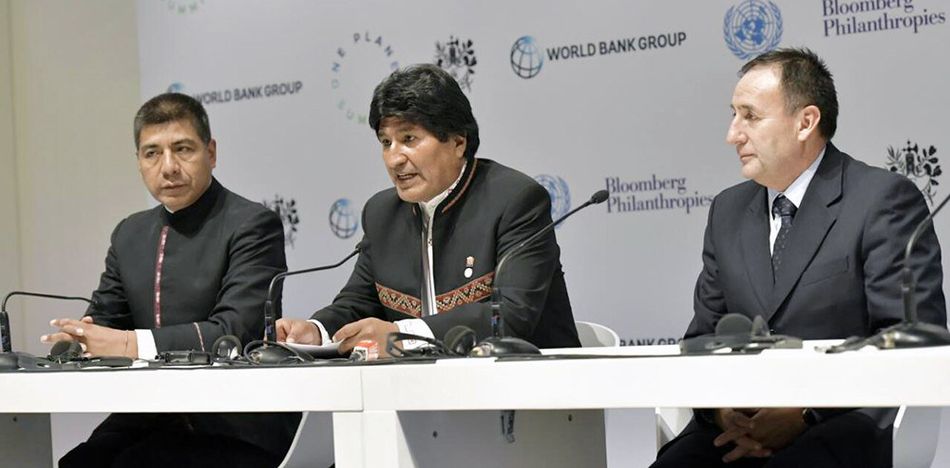 EspañolBolivian President Evo Morales didn't miss an opportunity to criticize the United States this week, accusing it of being the "the biggest polluter on the planet" during talks at the Paris Climate Summit that were held Tuesday, December 12.
"Trump says that he wants to go back to the moon and conquer Mars," Morales tweeted. "What good is it to spend millions of dollars visiting other planets when he is destroying planet earth?"
The Climate Summit took place in Paris, where Morales expressed his dissatisfaction with the US not paying its debt for being such a large polluter. He also said action must be taken to stop climate change, because "time is running out." He called for an Environmental Justice Tribunal that sanctions the most developed nations for contributing to climate change.
Se nos acaba el tiempo, el capitalismo incrementa y destruye nuestro planeta con la incesante emisión de gases de efecto invernadero que, con el cambio climático, provoca sequías, inundaciones y desastres. No existe plan B, solo tenemos un planeta. Es hora de salvarlo entre todos

— Evo Morales Ayma (@evoespueblo) December 12, 2017
Morales complained that the economic resources aimed at preserving the environment are not properly handled by the US. "Privatization is synonymous with capitalism," he said. "The crisis provoked by capitalism can't be solved with more capitalism."
Vemos con preocupación que se pretenda transferir responsabilidades al sector privado, esto traerá consecuencias irreversibles. Pretender que el capitalismo resuelva la crisis del cambio climático es como pretender darle la responsabilidad al zorro de cuidar el gallinero. pic.twitter.com/SQgz3CS0oz

— Evo Morales Ayma (@evoespueblo) December 12, 2017
Bolivia belongs to the coalition of nations who signed the Paris Climate Agreement, which the United States decided not to participate in last June due to disadvantages President Donald Trump said it creates for US businesses.
"The United States is building physical walls between brothers, but they are building the worst wall of all for the entire world," he said. "The wall between life and death, the wall that will deny future generations their very right to life. The United States is the principal threat to human life and mother earth."
Lamentablemente se gasta más en las guerras que en combatir al cambio climático. Un claro ejemplo es EEUU, principal contaminador, abandonó el Acuerdo de París, desprecia a la comunidad internacional y su prioridad es la guerra. Su gasto militar en 2018 llegará a $us 700.000 MM. pic.twitter.com/ALKkq199HU

— Evo Morales Ayma (@evoespueblo) December 12, 2017
Though Morales's criticism of the United States is echoed by several world leaders seeking to reduce global warming, these specific comments seem to be fueled by more than just the environment. Critics said the event was just another opportunity to attack the US while bolstering Bolivia's own socialist policies.
US Representation

Though President Trump wasn't present at the meeting, the US was represented by a member of the embassy.
"It's very disappointing. It's worse than disappointing. It's a disgrace when you take into account the facts, the science, the common sense, all the work that was done," former US Secretary of State John Kerry said of Trump's decision.
"It doesn't matter that Trump has rejected the Paris Agreement," former Governor of California Arnold Schwarzenegger said. "Nobody has left. We, at the state level, will take over."
Other US figures — such as Governor of California Jerry Brown, philanthropist and founder of Microsoft Bill Gates, the former mayor of New York Michael Bloomberg and actor Sean Penn — participated.
The meeting did not reportedly reach any clear conclusion, nor did it detail any plan of action; however, the countries participating in the agreement presented projects that could combat climate change in the future.