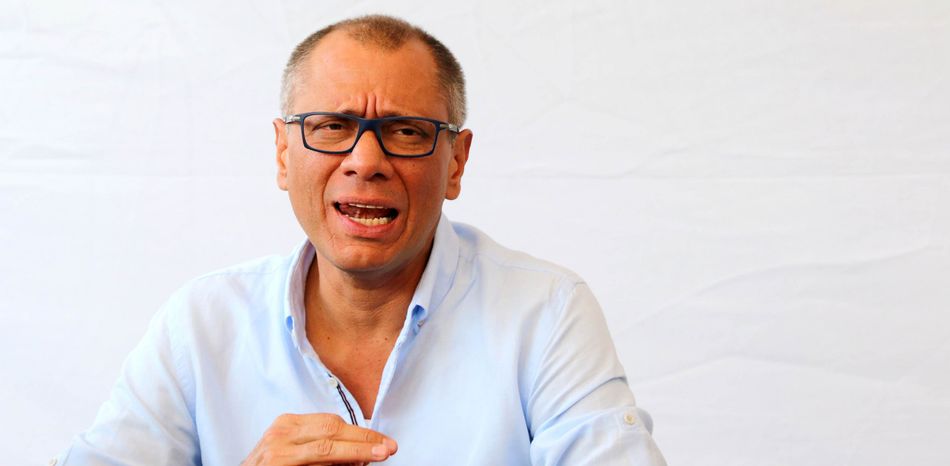 EspañolProsecutors in Ecuador have asked the Supreme Court to sentence Vice President Jorge Glas to six years in prison for crimes of illicit association — the maximum sentence a person can receive in the country for those crimes.
Prosecutors explained that the request — made last Thursday, December 7 — was made after determining Glas had "power and influence" in public works projects contracted with Odebrecht, for which the company allegedly offered him bribes.
Glas committed the crime with international criminal assistance, testimonies and financial analysis expertise that shows bank transfers amounting to US $33.5 million, officials said. Glas's relationship with his uncle Ricardo Rivera — who acted as his intermediary — was also criminal.
"We are about to conclude the hearing and submit to the court's decision," Attorney General Carlos Baca Mancheno said. He has accused two of the nine participants in the operation and requested the maximum penalty for them. The prosecution has also accused Glas of accepting US $13.5 million in bribes between 2012 and 2016 from Odebrecht in exchange for contracts to five construction projects.
Glas is one of the 18 defendants under investigation for allegedly taking bribes from Odebrecht, and one of 28 people accused of irregularly handing over oil exploitation contracts for an area of the Amazon in the province of Sucumbíos.
The hearing against Glas has so far lasted over 10 days. All hearings and evidence have been presented, and each side has delivered its closing statements. Now, judges in charge of the case (Édgar Flores, Sylvia Sánchez and Richard Villagómez) must give a final ruling.
The Vice President's defense has accused the prosecution of acting as "a knife for hire for Odebrecht" and of "perversely using political forces to attack Glas." Eduardo Franco Loor, one of Glas's attorneys, said an investigation against Baca has been requested for alleged "deception."
There is no established date for the final sentencing, but the court is expected to make an announcement in the coming days. In the meantime, Glas has stated the "justice system will act with integrity, in keeping with the rule of law, and not according to whims and opinions."
Jorge Glas sobre la pena máxima pedida en su contra por el fiscal Carlos Baca. #CasoOdebrecht pic.twitter.com/qkhXUwnVZj

— Marieta Campaña V. (@Marietareina) December 8, 2017
For now, Glas remains in custody, as he has been since October 2. In that time, President Lenin Moreno has replaced him with interim Vice President María Alejandra Vicuña.
"It is our prerogative to determine whether or not he is qualified to fulfill his duties," Moreno said at the time of his decision. "A person who is imprisoned can't serve as Vice President."
Glas's removal, as well as the trial, have made him a key player in the recent rupture of the governing party Alianza PAIS. Former President Rafael Correa has also expressed his disagreement with what he considers to be political persecution against Glas and his followers.
Moreno has reiterated his commitment as President to avoid what he called "accidental loyalties." Despite Correa's accusations of "disloyalty and cynicism," his fight is against corruption "without partisan, political differences."