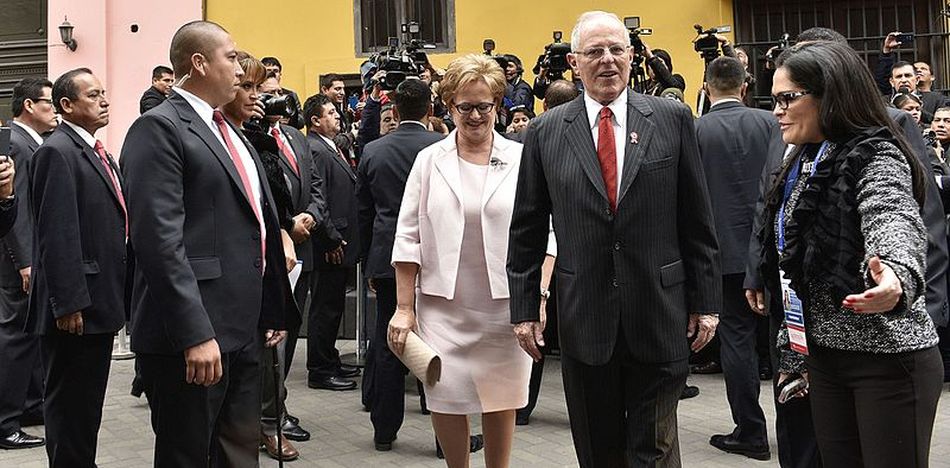 Español The Lava Jato Commission has requested that First Lady of Peru, Nancy Lange, meet with investigators to discuss her relationship with First Capital Partners, a company partly owned by the Brazilian construction company Odebrecht currently mired in a corruption scandal.
The decision to meet with the wife of President Pedro Pablo Kuczynski came after congresswoman Yeni Vilcatoma asked the commission for a statement from her. Vilcatoma, who is not part of the commission, requested the meeting with the investigation team in an attempt to gather evidence that would "prove" the President is involved in the Odebrecht corruption scandal.
Former CEO of the construction company Marcelo Odebrecht told investigators earlier this year that he hired Kuczynski as a consultant. Documents originally made public by Congressman Manuel Dammert supposedly show that Kuczynski was a partner with First Capital Partners — a company partially owned by Odebrecht— until 2009.
A report from the "Fourth Estate" revealed the President's wife was a member of Latin America Enterprise, a company reportedly founded by Kuczynski in 1994, and which has the same address as First Capital Partners. The company reportedly provided financial advice to Odebrecht for the Interoceánica Sur and Trasvase Olmos projects.
Kuczynski has denied the allegations, claiming that he has had no direct relationship with Odebrecht. Though he said he is willing to answer any and all questions from the Lava Jato commission in writing, a new focus on his wife — especially from  Congresswoman Vilcatoma — has raised some eyebrows about the direction of the investigation.
"In light of the fact that it is already quite clear the President does not want to be held accountable, I request that this investigative committee call on Ms. Nancy Lange, who was an alleged partner in the Latin American Enterprise Corporation," Vilcatoma told the investigative team.
This is not the first time that Vilcatoma has called on the President to resign. She made a similar demand earlier this year after questions first arose about his alleged links to Odebrecht as a consultant. She has threatened to begin the impeachment process if he refuses to resign.
Todo Se Sabe│Yeni Vilcatoma: "Opinión del Fiscal de la Nación es un blin… https://t.co/9ScStLNcoT vía @YouTube

— alian molina (@aliomp) December 6, 2017
Prime Minister of Peru, Mercedes Aráoz, said Vilcatoma's requests are unfounded, and that she has proclaimed herself as judge in the matter "without authority" to do so. Vilcatoma's requests, she said, are just "noise that does not help the country."
"Regrettably, Miss Vilcatoma's comments go against the constitution and the democracy that we live in," Aráoz said.
https://twitter.com/PPKbancada/status/938160837830823936?ref_src=twsrc%5Etfw&ref_url=https%3A%2F%2Fes.panampost.com%2F%3Fp%3D213489
Vilcatoma's polemic statements caused a stir because they seem to attempt to "force the president to agree" to interrogation procedures, governing party Spokesman Juan Sheput said. According to Sheput, it's not necessary to involve the First Lady in order to "get to the bottom of things."
"They can call on any of his associates, but not on his wife, especially not when you will only get an emotional reaction, which is why the President has indicated that he would give a written response."
Hoy reiteré mi total disposición de responder a la Comisión Lava Jato. Lo haré por escrito y envío dos informes que reafirman que no estoy obligado por la Constitución a comparecer ante ninguna comisión investigadora del Congreso durante mi mandato. https://t.co/1Gdk9Basqi pic.twitter.com/9G3ubfYdxS

— PedroPablo Kuczynski (@ppkamigo) December 4, 2017
Estoy absolutamente seguro de mis actos. Dejemos que nuestras autoridades fiscales y judiciales trabajen con autonomía, independencia y libres de presiones políticas. Estamos comprometidos en la lucha contra la corrupción. (3/3)

— PedroPablo Kuczynski (@ppkamigo) November 14, 2017