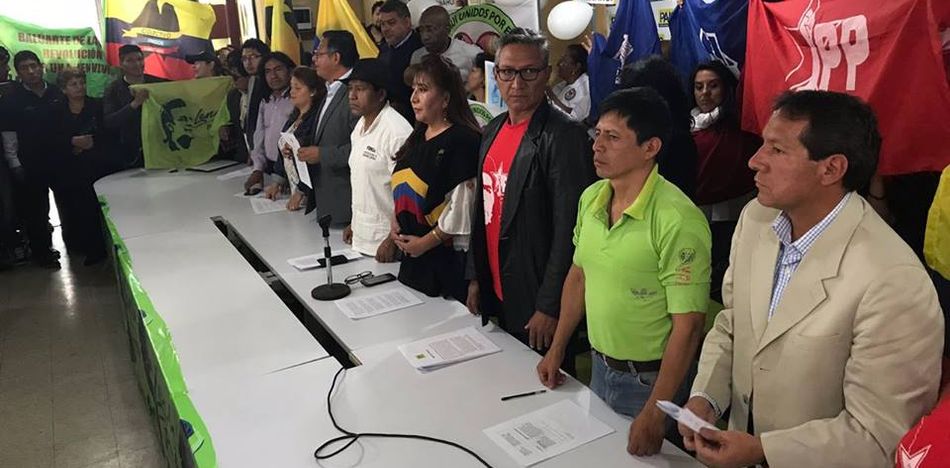 Español Former Ecuadorian President Rafael Correa continues to lose support within the Alianza País party, as approximately 70 Citizen's Revolution Committees came out this week in support of current President Lenin Moreno.
The document signed by the committees outlines their rejection of "any illegal and illegitimate act that disrespects and intends to provoke internal ruptures" within the ruling political party.
The statement also highlights the support of the job being done by Moreno, and called him the "true President" of Alianza País.
The committees said they recognize the "achievements over the last 10 years under Rafael Correa's leadership." They also expressed their support for a referendum, which Correa has called Moreno's attempt to "destroy" the Citizen's Revolution — a set of socialist policies intended to restructure Ecuadorian politics and society.
"We are not (taking the side of) any faction within our movement because we would be falling into the game," that seeks "to divide the party," the statement said. It also rejected Correa's attempt to intervene on questions of party leadership. He returned from Belgium determined to "initiate a new stage of the Citizen's Revolution" that would recover the movement.
The former head of state has made it clear he intends to remove Moreno as the leader of the party — a request that has already been denied by the country's National Electoral Council. "There was no due process, there was no participation, there was no respect for Lenín Moreno's right to defend himself as he is, in my view, still the President of the Alianza País movement," José Serrano, President of the National Assembly of Ecuador, said in a ruling.
According to Correa, Moreno is a "traitor," "disloyal" and "ungrateful." Moreno has also, Correa said, put "in motion a real coup d'état" by working with opposition officials to reach middle ground.
Even Moreno's former presidential competition in the elections, Guillermo Lasso, said he believes the President has carried out Alianza País' principles.
"Let's be clear about what the Correistas are thinking: that Lenin Moreno's government is doing many of the things that the rival party CREO proposed and would have done in his place. It's true, yes: Many things, though unfortunately not all," Lasso said.
Moreno maintains that he is only trying to move forward with "a process of national reconciliation" between differing political movements.