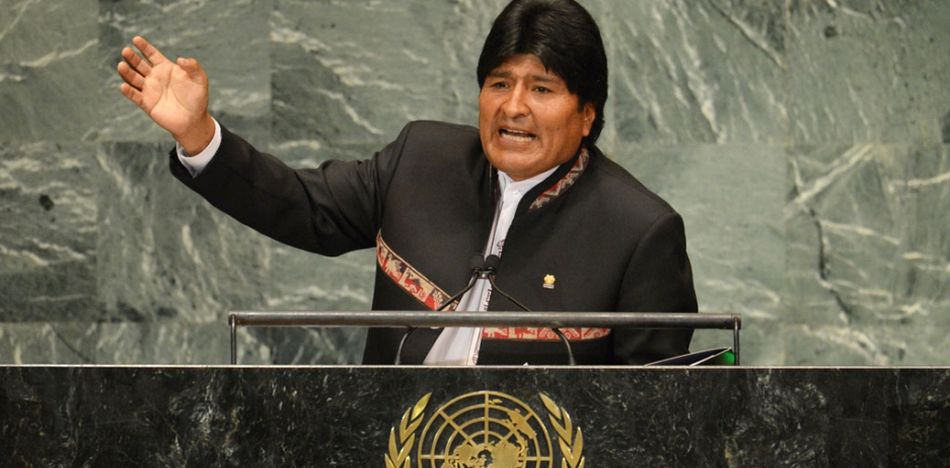 Español Bolivian President Evo Morales criticized "western democracy" this week during a speech, and talked about the possibility of replacing it with a "communal democracy."
Morales explained that he considers majorities and minorities a problem, because one group always ends up "resentful, even though most of them are in the right."
He said the country would be better off without voting systems in place, but rather a system in which a unanimous consensus is reached, as is the practice in rural areas of the country, where an election must be won with 50 or 60 percent of the vote. However, Morales acknowledged there are a lot of obstacles to fulfilling such a dream.
Morales made the comments during his criticisms of the opposition, claiming that they have no moral ground to stand on for accusing him of trying to remain in power without term limits. He spoke about former President Hugo Banzer Suárez, who created a law establishing a dictatorship until 1980 that violated the Constitution.
Como hoy, 1974, dictador Banzer promulgó decreto ley 11947, que establecía duración de dictadura hasta 1980, violaba la CPE, descabezaba dirigencias sindicales y proscribía paros y huelgas. Hoy sus herederos y aliados neoliberales nos acusan de régimen. Doble moral. pic.twitter.com/1v9Ku7A06U

— Evo Morales Ayma (@evoespueblo) November 9, 2017
Despite these criticisms, Morales continues to push for unconstitutional reelection with the support of his Movement to Socialism party.
Similar a otros que quieren quedarse hasta el 2025, por encima de la voluntad popular. Que feo, ¿verdad?.

— Richard Torrico (@RichardTorricoP) November 9, 2017
Morales began his first term in 2006, the second in 2010 and won a third term in 2015. Now, he wants to run again, despite laws established in the constitution saying he can't. In February 2016, a popular referendum resulted in an overwhelming disapproval of Morales' reelection campaign.
The issue has sparked controversy and criticism even at the international level. The attempt to "install a dictatorship" has been denounced by the Inter-American Commission on Human Rights of the Organization of American States.
Denunciando golpe a Constitución y persecución d @evoespueblo BOL en CIDH-OEA, ante SecEjec Paulo Abrão https://t.co/QODmgq1qMd

— Tuto Quiroga (@tutoquiroga) September 20, 2017
Morales has made use of the same political discourse as the dictatorships in Cuba and Venezuela, and he could follow that path by not allowing for a change of power.
"Power doesn't last forever, we must respect the minimum institutionalization and constitutional order," opposition Deputy Bernard Gutierrez said.
According to a survey by pollster Ipsos last October, 68 percent of the country is against Morales running for a fourth consecutive term. Still, Morales maintained that what the people say doesn't matter. "This process is irreversible."
Morales' Twitter history with Banzer's dictatorship
¿Cual es la diferencia de intereses del criminal dictador militar y el seudo socialista?
¿Uno forzó su ambición de poder a punta de bala, el otro trata de perpetuarse forzadamente en el poder?
Traje vs. Poncho

— Fenix Activo (@FenixAxtivo) November 9, 2017
No hay mucha diferencia con #evomorales que ahora quiere pisotear la #CPE y perpetuarse en el poder junto a sus llunkus para seguir despilfarrando el dinero de los #Bolivianos y violando derechos humanos

— Marcelo Daniel (@rodz848) November 9, 2017
https://twitter.com/carmen_jul_/status/928669759637479424
Obvio que lo acusan de régimen, si no es capaz de reconocer una consulta ciudadana donde le dijeron no más reelección, ud igual que ellos quiere perpetuarse en el poder, entonces, que diferencia hay?, Quien tiene doble moral?

— Javier Gualleco (@JGualleco) November 9, 2017
Y no es doble moral, pedir respeto a la Constitución del Estado y después con artificios quererla cambiar a su favor, por darle un ejemplo…

— lilian fabiola acuña (@BlusitaAcua) November 9, 2017
Sources: El Deber, Los Tiempos, La Razón, Correo del Sur, Página Siete, Voanoticias.