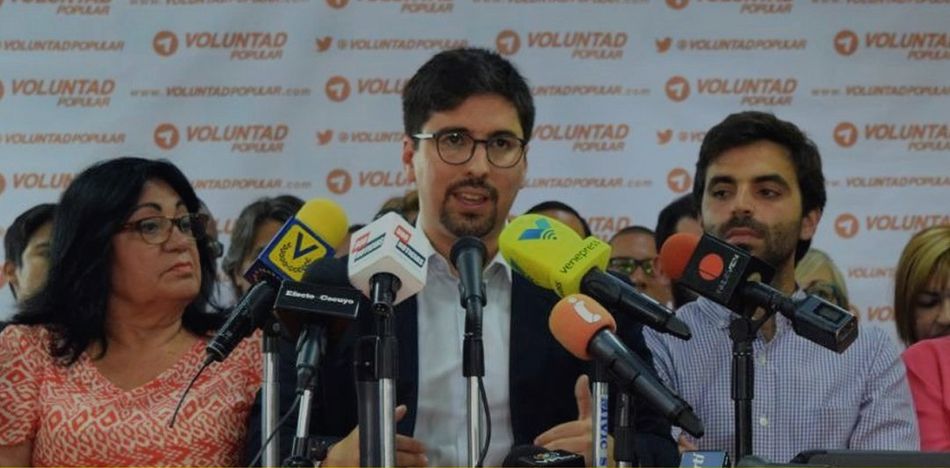 EspañolThough many celebrated the release of two political prisoners being held by the Venezuela dictatorship, the country's political opposition said it's well aware the move was only a "smoke screen" to distract from other human rights violations currently taking place, such as the persecution of opposition leader Freddy Guevara.
Yon Goicoechea and Delson Guárate were released this weekend around the same time that the Vice President of the National Assembly Freddy Guevara was deprived of parliamentary immunity and forced to go into hiding at the residence of Chile's ambassador, Pedro Ramírez. He took in Guevara late Saturday, November 4, to protect him from "imminent threats" to his personal safety, according to the Ministry of Foreign Affairs of Chile.
"A few hours ago the first Vice President of the National Assembly of Venezuela, Deputy Freddy Guevara, entered the residence of the Ambassador of Chile in Venezuela, who, in view of what he considers imminent threats to his personal safety, has requested the protection of Chile," the Chilean government said in a statement.
ÚLTIMA HORA | El opositor venezolano y primer vicepdte. de la AN, Freddy Guevara pide refugio en la Embajada de Chile en Caracas #4Nov

— AlbertoRodNews (@AlbertoRodNews) November 5, 2017
The country's Foreign Ministry said it agreed to grant Guevara asylum "in accordance with its humanitarian tradition, the principles that inspire our foreign policy and in coherence with precedents set in similar situations."
Venezuela' Supreme Court of Justice, controlled by President Nicolás Maduro and his regime, suspended Guevara's parliamentary immunity and prohibited him from leaving the country ahead of a trial for alleged "public incitement," among other crimes.
Parliamentary immunity grants officials some legal amnesty from prosecution. To try a member of the National Assembly in Venezuela like Guevara, the Supreme Court had to first revoke his immunity. According to the Maduro, Guevara committed acts of violence and incited foreign intervention that warranted such a move.
Comunicado del @GobiernodeChile sobre los últimos sucesos en #Venezuela ?? >> https://t.co/ekhelCtKVg pic.twitter.com/cj9GGtWonm

— Cancillería Chile ?? (@Minrel_Chile) November 5, 2017
The opposition coalition, known as the Democratic Unity Roundtable, or MUD by its Spanish acronym, called the Supreme Court decision illegal, and claimed the crimes allegedly committed by Guevara were "made up by the regime without any kind of legal support or validity."
Popular Will, an opposition party within MUD, said the regime's decision "reaffirms its dictatorial essence" and represents its continued persecution of the opposition.
Si algún país conoce y ha sufrido violaciones contra los derechos humanos es Chile . Chile sabe muy bien lo q es vivir bajo dictadura

— CARLOS VECCHIO (@carlosvecchio) November 5, 2017
Maduro said last July that he would go after Guevara. "We already have his cell ready for him," Maduro said at the time. "I'm just waiting for the Constituent Assembly to come together. There is a cell with his name on it. He is an imbecile terrorist who isn't even welcome in his own home."
Persecution of this nature is nothing new in Venezuela, especially for opposition officials. Five Supreme Court justices appointed by the National Assembly have been forced into asylum in the Chilean embassy before fleeing to Chile through Colombia.
After the Supreme Court suspended Guevara's immunity, Maduro's police started an operation to arrest the deputy. Photos have circulated showing Sebin forces surrounding Guevara's residence. Guevara, however, had already fled by that time.
#FOTOS El Sebin rodea la residencia de Freddy Guevara https://t.co/pvU8qvyThK pic.twitter.com/3jjyXYXM9D

— Sumarium (@sumariumcom) November 5, 2017
The international community speaks out
Many countries have already denounced the regime's decision to repeal Guevara's immunity. Argentina, Brazil, Canada, Chile, Colombia, Costa Rica, Guatemala, Honduras, Mexico, Panama, Paraguay and Peru have all condemned the decision, calling it "a new attack against the rule of law and the division of powers in Venezuela."
Through a joint statement, the so-called Lima Group, made up of the 12 countries from around the Americas, said the actions against Guevara "prevent the normal functioning of the National Assembly legitimately elected by the people."
"These types of measures legally limit the National Assembly from exercising their functions as popularly elected officials, and ignores the necessary separation of powers essential for full democracy and respect for the rule of law," the Mexican Secretariat of Foreign Relations said.
Spain also denounced the measures of the Venezuelan regime and condemned "this new attack against Venezuelan democracy and against its National Assembly, the only legitimate legislative power and repository of national sovereignty."
Sources: Reuters, Infobae, El Nacional, La Nación, CNN, El Mundo.