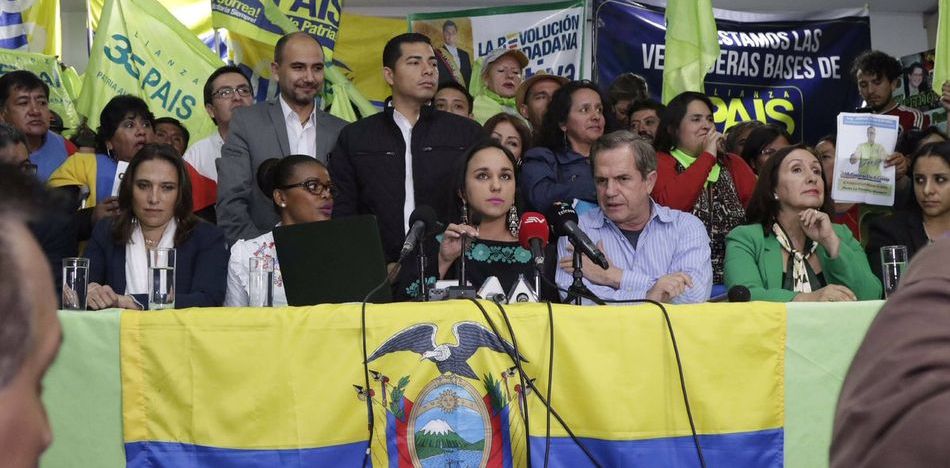 Divisions within the Ecuadorian ruling party Alianza País (AP) came to a head after supporters of former president Rafael Correa dismissed president Lenín Moreno as party leader.
The national AP directorate announced the change in an official statement in which they named former foreign minister Ricardo Patiño as party leader. Patiño was a key player in the previous government's administration.
La Dirección Nacional de @35PAIS resuelve posicionar al compañero @RicardoPatinoEC como Presidente del Movimiento. #APCuestiónDePrincipios pic.twitter.com/dn1RCKkpgJ

— Movimiento Alianza PAIS (@35PAIS) November 1, 2017
The statement also mentions that Moreno has not been politically consistent in dealing with the opposition, which contributes to undermining "the organic unity of the movement." According to party leadership, these are very grave violations of their regulations; specifically any action which objectively benefits people or groups opposed to Correa's "Citizens Revolution", according to the document.
"We have made a decision…the president of the republic received more than 50% of the vote in the elections. He was elected on our platform, but now he is implementing the opposition platform," said Patiño during a press conference from the AP headquarters.
The decision to replace Moreno as party leader was made unanimously. "The AP ruling council unanimously decrees the immediate withdrawal of Lenin Moreno as president of the Alianza País movement" the statement reads.
La Dirección Nacional de @35PAIS expresa su postura frente a la coyuntura interna. @GabrielaEsPais @RicardoPatinoEC @MashiRafael pic.twitter.com/ujdcp5zYaI

— Movimiento Alianza PAIS (@35PAIS) November 1, 2017
However, after this declaration was made, several ministers and high-level officials, within the Moreno administration disregarded the AP's decree, calling it "arbitrary."
Rejection of the AP decision
"They know very well that the president of Alianza País, must be elected just as all other national leaders. We regret this decision, and we will continue with our organization," said Minister of Political Administration, Miguel Carvajal .
"We have always said that we hope that the differences will be dealt with within the democratic spirit and with maturity," Carvajal added, claiming that this is  just another of the "virulent" political attacks that the president has received in recent months.
Aplicamos el programa que ganó en las urnas: soberanía, desarrollo económico y productivo, lucha contra la pobreza y contra la corrupción.

— Miguel Carvajal (@MCarvajal_A) October 31, 2017
We are applying the strategies that are tried and true: sovereignty, economic development, and the fight against corruption and poverty. 
María Alenadra Vicuña,the acting vice-president also rejected "the spurious decision from only part of AP", and insisted that the president had been elected as the leader of the party as well as of Ecuador through free and fair public elections.
"I can't believe that many of us who are here now have been blocked from the party's official accounts," she complained.
"Not only is it an absurdity, but it also demonstrates that their actions were wrong, that they do not represent the feelings of their base" said Vicuña.
She feels that "at some point, certain party members lost their way", and explained that the decision taken only corresponds to the National Assembly, and that "more than 44 assembly members have expressed their undisputed support for the President."
On the morning of this Wednesday, November 1, the Coordinator of Social Movements, the National Confederation of Rural Social Security, the National Federation of Peasant Organizations and the Association of Black Ecuadorians held a press conference in which they all officially denounced the right of a fraction of AP leaders to remove Moreno as the leader of the movement.
"We criticize and call attention to a part of the AP for what happened yesterday. They are forgetting the greater interest, which is the people," said the president of the Coordination of Social Movements, Rodrigo Collaguazo.
The representative of the Association of Black Ecuadorians, Daniel Canola, and the president of the National Federation of Peasant Organizations, Marcelo Ushiña, reported that a symbolic takeover of the AP headquarters will be carried out in the coming days.
"This is a space for all Ecuadorians, and especially for the base which has for the last ten years supported the political project. We must remember that without our base, we have no government at all," said Ushiña.
"There was no due process, there was no chance at participation, there was no respect for Lenín Moreno's right to defend himself. As far as I am concerned he is still the president of the AP movement", said the president of the National Assembly of Ecuador, José Serrano.
Se ha violentado el Régimen Orgánico de @35PAIS, las decisiones fueron tomadas por una instancia que se atribuyó competencias que no tiene.

— José Serrano Salgado (@ppsesa) November 1, 2017
Para mí el compañero @Lenin es el Pdte de @35PAIS. Es el Régimen Orgánico que determina que es la Convención Nacional que toma decisiones.

— José Serrano Salgado (@ppsesa) November 1, 2017
Recap
Internal party divisions have existed since the president and his predecessor have feuded over differences of opinion. Moreno has made it clear that his commitment as president does not "permit a misunderstanding of loyalties."
Once Moreno assumed the presidency and Correa affirmed that he left things "in Moreno's hands" arguments between the two began to become public. Moreno at first denied it, and even denied that Correa had commented on the national debt increasing since he left office. Moreno instead announced "austerity measures" to face "economic crisis" in Ecuador. However their differences extend beyond the issue of national debt. Moreno's intended approach to the indigenous sector is another point of contention.
The division in the AP worsened with the decision of Moreno to take Vice President Jorge Glas's position away from him and to move forward with the allegations against him, resulting in Glas being detained, and Moreno stating that he is unable to fulfill his duties as vice-president, appointing Vicuña as interim vice-president of Ecuador. This decision led many of Correa's supporters to file suit against her appointment.
Despite all these differences, the greatest "betrayal of the Citizens' Revolution," according to Correa and many of his followers, was Moreno's popular consultation on extraditing suspects, alternation in power, the fight against corruption ,and his approach to dealing with sexual crimes.
"These people are applying the opposition's agenda. They are persecuting us, they are making us look corrupt, they are useless…it is a disloyalty, a terrible ingratitude and they dare to say that they are not betraying the revolution when they question our economic management, which has been extraordinary," said former president Correa earlier this month.
However, Moreno affirms that he appeals "more to dialogue than impositions" and that his policies seek "a process of national reconciliation." "Ecuador was quite polarized: the difference in the number of votes between one candidate and the next were very small, despite the differences on the issues being very big." the president said last September
Sources: El Nuevo Herald, El País, El Comercio, El Ciudadano, Swissinfo, RPP, Sputnik, La República