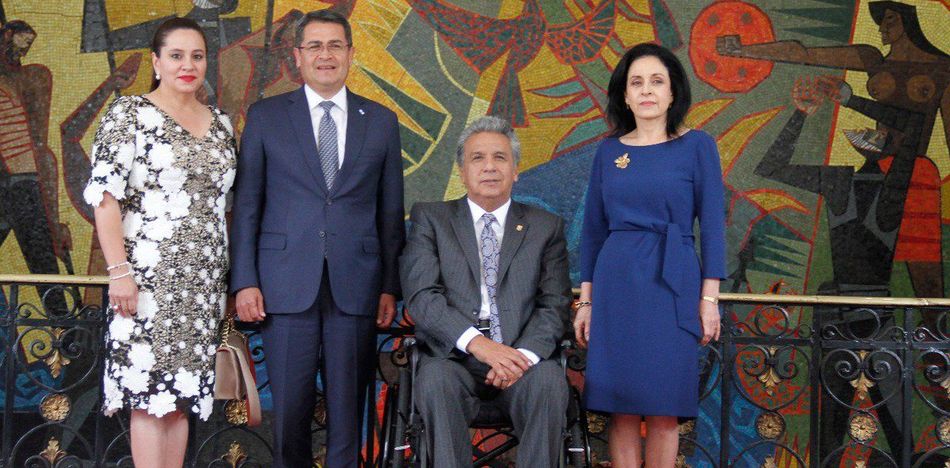 EspañolEcuador's President Lenin Moreno and his Honduran counterpart Juan Orlando Hernández met to sign a joint statement aimed at strengthening bilateral relations.
The meeting was held in the capital of Quito, Ecuador in the presidential palace of Carondelet, where the officials announced that the agreement will promote social and economic projects in both countries.
"It is very important to strengthen our economies and our business relationship," President Hernández said, "for both Honduras and Ecuador."
"We have developed a very close relationship in recent years," Hernández added.
The agreement reportedly aims to address extreme poverty in both countries, as well as to assist vulnerable demographics, to build homes and to improve employment. The agreement will involve the first ladies of both nations.
"We hope that the families will take care of these places and can take care of them, and appreciate their home, the green spaces, their neighbors and everything that revolves around a community, "the first lady of Ecuador said about the project.
At the end of the meeting, President Hernández also highlighted the "special chemistry" that the first two ladies had. "The first ladies had a special chemistry from the first moment (they met) and that benefits us presidents," he said.
En nombre del pueblo hondureño, agradezco el magno recibimiento en Ecuador, reafirmando lazos de amistad y colaboración entre ambas naciones pic.twitter.com/y1zwP8BHwZ

— Juan Orlando H. (@JuanOrlandoH) October 13, 2017
On Behalf of the Honduran people, I would like to express my thanks for being received in the best way in Ecuador, and I re-affirm my friendship and desire for collaboration between our two nations. 
Sources: La República; Telesur; El Comercio.