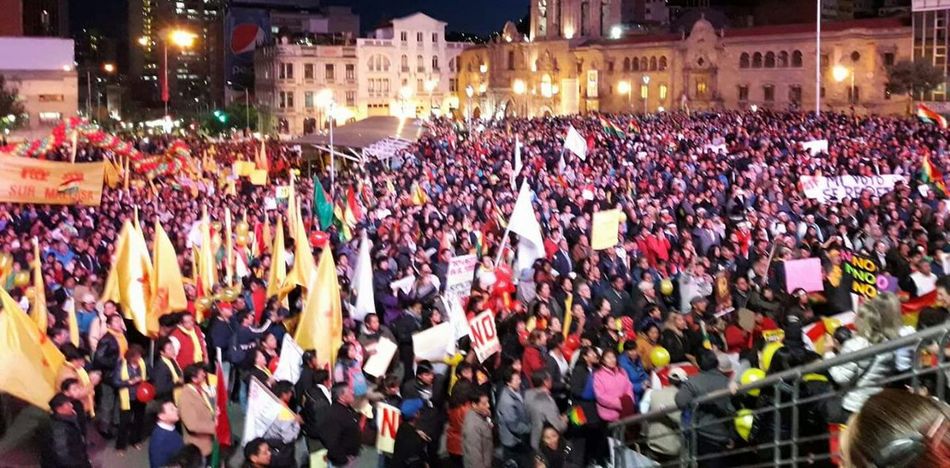 EspañolOn Tuesday, October 10, thousands of Bolivians took to the streets to protest against President Evo Morales' attempt to get re-elected despite the fact that the constitution does not allow for a fourth consecutive term.
The demonstrations that took place in the country's nine regional capitals warned President Morales that the people of Bolivia will not allow him to participate in any more elections.
"No means no," was one of the slogans that could be heard on the streets of Bolivia, referring to the opposition's triumph in choosing "no" during a constitutional referendum that rejected Morales' previous attempt to run for a fourth term.
President of the Pro Santa Cruz Committee, Fernando Cuéllar, opened a series of public speeches on September 24 in Santa Cruz.
"Nothing is further from a democratic government than a government that aspires to perpetually remain in power," Cuéllar said. "When this happens, democracy becomes totalitarianism. That is why we strongly and firmly support the full exercise of human rights, and we believe that citizen mobilization is and will always be the most powerful weapon to avoid excesses and to defend our right to live in freedom, fairness, solidarity, with peace and harmony."
The demonstration coincided with the commemoration of 35 continuous years of democracy in Bolivia, which started with the presidency of Hernán Siles Zuazo that ended 18 years of dictatorial rule.
President Morales accused those who protested in defense of democracy of wanting to recycle the dictatorships from the past. "The same people who abused democracy to recycle the dictatorship and negotiate the power of votes, and they claim to be the defenders (of democracy)," the president tweeted.
Los mismos que abusaron de la democracia para reciclar la dictadura y negociar el voto en cuoteos de poder, ahora dicen ser sus defensores.

— Evo Morales Ayma (@evoespueblo) October 10, 2017
Images from Manifestations to Protest the Re-Election of Morales:
Manifestacion reitera un NO a la releccion # Bolivia pic.twitter.com/vhWR5fwZHu

— Centa Rek (@rcenta) October 11, 2017
@JuventudLAC La manifestación en #Bolivia #SantaCruzBO es un éxito. #YaNoMAS #BoliviaDijoNo @jonathanmaza pic.twitter.com/Lngl4X8Zai

— Marcelo Dávalos G. (@MarceloDvalosG) October 10, 2017
Opositores a la reelección de Morales convocan a manifestación por democraciahttps://t.co/OEPk0hIMJf#evoespueblo #Bolivia pic.twitter.com/JZcVMiuWZ3

— El Nuevo Diario (@elnuevodiariord) October 9, 2017
Manifestación masiva en contra del prorroguismo del PRESIDENTE MORALES en La Paz.Bolivia pic.twitter.com/DtoL1IoaMB

— Oscar Kellenberger Z (@KellenbergerZ) February 22, 2017
Sources: El Deber, Página Siete, Notimérica.