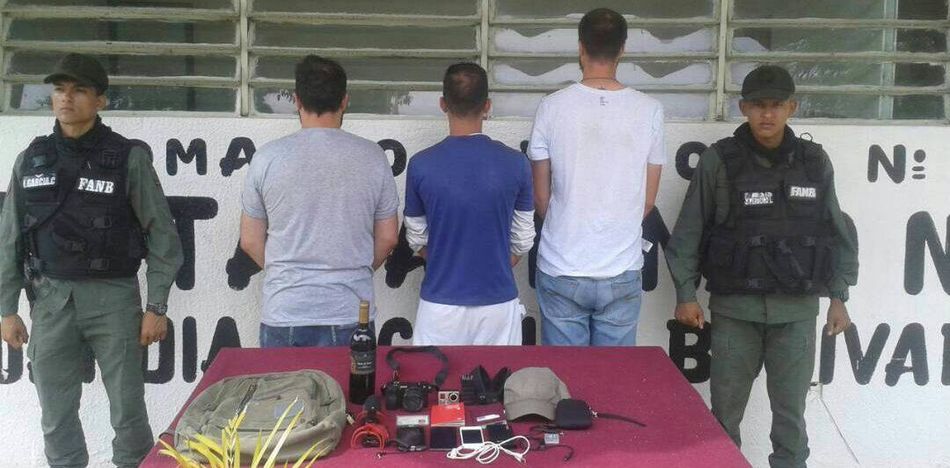 EspañolVenezuela's National Press Workers Union (SNTP) alerted on late Friday, October 7, that three journalists who were reporting from a prison in Tocorón, northern state of Aragua, had been arrested. They were subsequently released this Sunday.
"Jesús Medina, Roberto Di Mateo, and Filippo Rossi are allegedly accused of taking filming equipment inside the Tocorón prison without authorization," the SNTP said on its official Twitter account.
#ALERTA Jesús Medina, Roberto Di Mateo y Filippo Rossi serían acusados de ingresar equipo audiovisual a Tocorón sin autorización #7Oct pic.twitter.com/AEd1XJj8fF

— SNTP (@sntpvenezuela) October 7, 2017
The three journalists, two of them Italian correspondents (Roberto Di Matteo and Filippo Rossi) and one Venezuelan videographer from the opposition outlet DolarToday, were arrested inside the Tocorón prison by agents from the Ministry of Prisons and handed over to prosecutors.
Local media have reported that kidnappings, extortion rackets, and food smuggling are carried out by prisoners inside Tocorón.
"They had an invitation to go inside Tocorón. They were registering at the entrance when their access was revoked and the arrest happened. It seems there was a counter order to prevent their entry," the union said.
Venezuela's National Bolivarian Guard (GNB) informed the union that the reporters were safe. Nevertheless, the SNTP asked the nation's top prosecutor Tarek Saab to provide "real" information, since lawyers sent by the human-rights NGO Venezuelan Penal Forum to check on the journalists had alerted they were kept incommunicado.
On Sunday afternoon, the SNTF informed on Twitter that the three journalists had been released after a hearing.
#ULTIMAHORA Jesus Medina, y los dos periodistas internacionales detenidos en Tocorón el viernes, quedaron em libertad plena #8Oct pic.twitter.com/0rucCGbz7M

— SNTP (@sntpvenezuela) October 8, 2017
"Jesús Medina and the two foreign journalists arrested in Tocorón on Friday have been granted full liberty."
Sources: La Patilla, France 24, RPP Noticias.