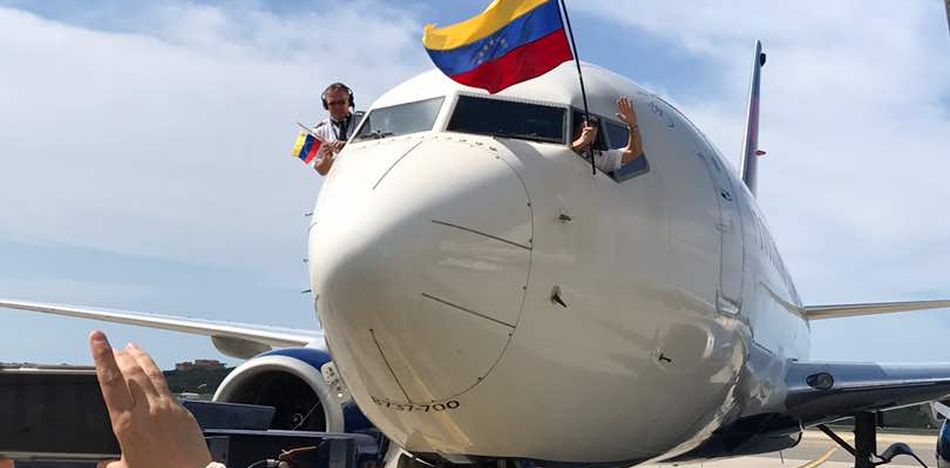 EspañolDelta, one of the largest US-based airlines, officially shuttered its operations in Venezuela on Saturday, September 16, after its last Atlanta-Caracas flight.
"Liberty is the oxygen of the soul. We hope to come back," read signs prepared by Delta's pilots and onboard staff in a display of support of the Venezuelan people undergoing severe economic and political crisis.
#EnVivo | Así fue la despedida de @Delta Air Lines en su último vuelo Caracas – Atlanta y con ello el cese de operaciones en #Venezuela. pic.twitter.com/nnBtE4o3Z4

— Flyreport (@i_flyreport) September 16, 2017
"This was Delta Air Lines' goodbye during its last Caracas-Atlanta flight which ended operations in Venezuela"
On July, Delta announced, as many other airlines, that it would suspend its operations in Venezuela due to "unstable" market conditions.
It joined the group of nine airlines that have decided to leave the South American nation over the past three years: Avianca, Air Canada, Alitalia, GOL, Tiara Air, Lufthansa, Latam, Aeroméxico, and United Airlines.
The International Air Transport Association (AITA) warned that "Venezuela is disconnecting itself from the rest of the world" and urged the Maduro regime to respect global stantards in order to ensure that the country's air travel remain competitive and sustainable.
The main concern for IATA is the currency controls and government obstacles to send funds from Venezuela to the airlines' headquarters abroad.
"Unfortunately, Venezuela is disconnecting itself from the rest of the world regarding air traffic. As any country, Venezuela needs a robust connectivity and its derivin economic benefits. However, the Venezuelan government is not meeting the necessary requisites, with actions such as withholding US$3.8 billion that belong to the airlines and a fuel-distribution system that harms international airlines in Venezuela," said Peter Cerdá, IATA's Regional Vicepresident for the Americas, in a July press release.
Sources: El Nacional, El Impulso.