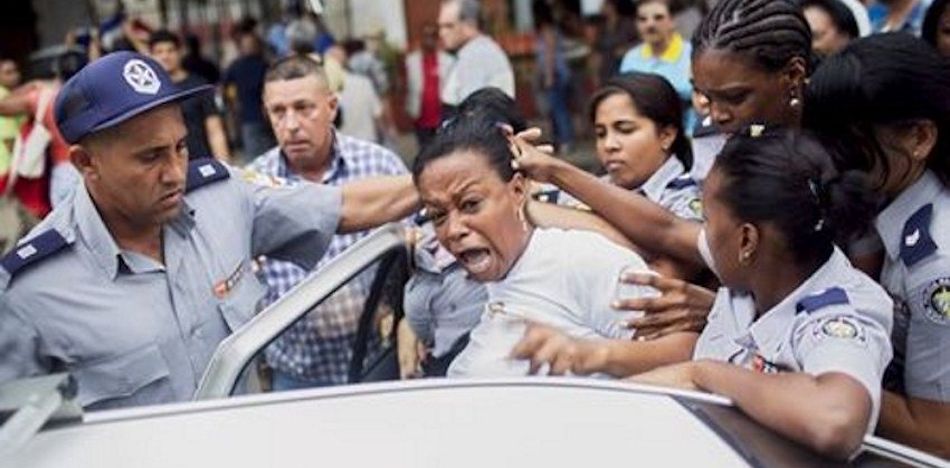 EspañolAugust proved to be another oppressive, authoritarian month for the Cuban regime, registering 511 arbitrary and politically motivated arrests, according to the Cuban Commission for Human Rights and National Reconciliation.
The dissident group warned that civil organizations suffer "various forms of systematic, illegal intimidation and deterrence."
The Commission also said that there were 11 recorded cases of physical aggression and nine acts of harassment and intimidation. Additionally, at least six activists were reportedly prevented from traveling abroad "to participate in conferences or training activities."
The report, published on Tuesday, September 5, said that the "main targets of political repression" continue to be members of the women's opposition group Damas de Blanco (or Women in White) and the Patriotic Union of Cuba (UNPACU).
The Women in White march each Sunday in protest of their imprisoned family members, but have been prevented from organizing even to attend church.
The number of arbitrary arrests last July came in at 575, showing a month-to-month reduction in detentions that officials doubt represents actual progress. Previously, the Cuban Observatory for Human Rights (OCDH) explained that the decrease in the number of detentions is due to the "change in its repressive mechanisms" and not to a positive change by the authorities on the island.
So far this year, the organization has documented 3,706 cases of political arrests; however, the Cuban regime still does not recognize internal dissidence and denies that there are political prisoners in its jails. Instead, it claims counter-revolutionaries are simply common criminals.
Sources: Cubanet; 14ymedio; El Nuevo Herald.