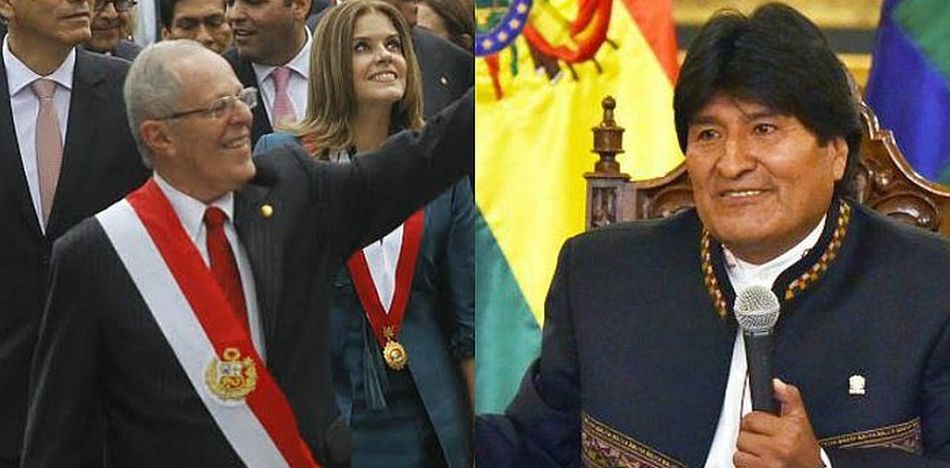 EspañolPeruvian President Pedro Pablo Kuczynski (PPK) has announced he will lobby legislators to grant landlocked neighbor Bolivia its own access to the sea by handing over control of Ilo, a small port in the southern region.
The announcement revives a treaty signed by the governments of both countries in 2010, but which hasn't been ratified by Peru's Congress.
"We are working on the idea of a port on the Pacific Coast, in Ilo, which is an old deal signed in this room many times but never came true. I pledge to make it a reality," Kuczynski said on Friday, September 1, after meeting with Bolivia's President Evo Morales.
For his part, Morales said Bolivians and Peruvians "are two fraternal peoples with the same history… All we are doing is to bring back what our forefathers used to do, visit each other and complement each other in the spirit of brotherhood and solidarity."
As a landlocked nation in South America, Bolivia currently resorts to northern Chilean ports for commerce. The plan accorded between Kuczynski and Morales, on the other hand, includes an international highway to the Ilo port, which would be under Bolivian control for 99 years, so that imports and exports don't need to pass through Chile, a country with which it maintains a long territorial dispute.
During the meeting, both presidents agreed to keep working on the Central Bi-Oceanic Railway, a project to link Brazilian ports on the Atlantic coast to Peruvian ports on the Pacific coast with a railway that crosses Bolivian territory and that would boost trade with Asia.
"The feasibility study is about to begin, and I am convinced that this project will come to life and that our countries will become even more united," said Kuczynski.
Fuentes: DW, El Deber, Los Tiempos, Gestión.