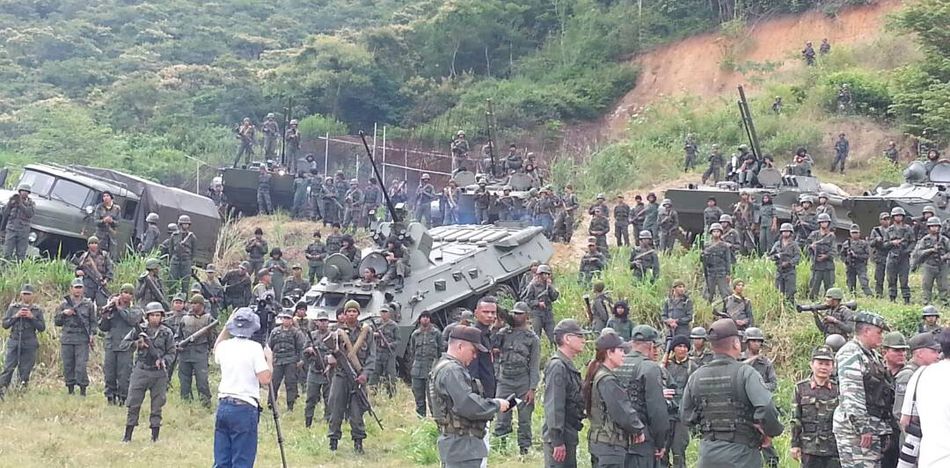 EspañolThe regime in Venezuela hosted military drills this weekend in preparation for a possible confrontation with United States troops.
"Civilian and FANB (Bolivarian National Armed Forces) have assumed the defense of our territories and sovereignty,"President and dictator Nicolás Maduro tweeted after the event.
The "2017 Bolivarian Sovereignty Exercise," as it was deemed, comes in response to a comment made by US President Donald Trump two weeks ago, in which he suggested that military intervention in Venezuela had not been ruled out as an option for removing the Maduro regime.
The drills held on Saturday, August 26 included sniper training with the army as well as other exercises with he National Guard and the militia. The following day, combat maneuvers were carried out, according to Defense Minister Vladimir Padrino Lopez.
"In the face of the imperial threat, faced with threats to bend our dignity, in the face of the intimidation of the American empire, every Venezuelan between the ages of 18 and 60 is under the obligation to contribute to the defense of the nation," he said during an announcement that was broadcast on VTV state television channel last Saturday.
Videos published through social media show enlisted civilians, some of whom were senior citizens, participating in the events.
Con los francotiradores de nuestra FANB hemos iniciado desde temprano el Ejercicio Soberania Bolivariana 2017! #EsHoraDeDefenderLaPatria pic.twitter.com/J4UGSvfJDj

— Vladimir Padrino L. (@vladimirpadrino) August 26, 2017
Along with our FANB snipers, we have begun our Soberania Bolivariana 2017 drills bright and early today. 
#ENvivo #26Ago Así es el ejercicio cívico-militar que se está desarrollando "en defensa de la soberanía". pic.twitter.com/Q8Zq7MXV2N

— GUSTAVO VECINO (@gustavovecino) August 26, 2017
#ENvivo #26Ago These are the civic-military drills that are being practiced "in the defense of our sovereignty."
Members of the Venezuelan opposition said they consider the exercises a farce.
"There were 29,000 homicides in 2016 alone! These exercises are a farce for those who participate in them. They will last two days,"  wrote opposition leader  Henrique Capriles Radonski. "Tomorrow it will be more of the same! How much did this cost the country?"
Twitter users have also expressed criticism of the weekend's activities.
He de admitir perplejidad por ejercicios militares de hoy. Es pura payasada o la dramática posibilidad de entrenamiento a escudos humanos?

— Ibéyise Pacheco (@ibepacheco) August 26, 2017
I must admit, I am a little bit confused by today's military operations. Are they simply clowning around, or could it be that they are training for the possibility of using human [civilian] shields?
Los ejercicios militares que tanta risa causan en las redes parecen dirigidos, no al enemigo externo, sino al control interno…

— Eugenio G. Martínez (@puzkas) August 26, 2017
These military exercises that are receiving so much mockery online appear to be directed not at foreign enemies but at internal control…
https://twitter.com/VenezuelaAnons/status/901782504549613569
What he have seen from these military exercises is that they have to use a lot of grandparents because the youth do not support them. 
Y al término del día… no se sabe si reír o llorar frente a los ya tristemente célebres "ejercicios" de militares y civiles en #Venezuela

— Idania Chirinos (@IdaniaChirinos) August 27, 2017
At the end of the day… I don't know whether or not to laugh or cry about the sadly celebrated "exercises" that include both soldiers and civilians in #Venezuela. 
The former ombudsman, Gabriela Ramírez, a Chavista dissident who has come out against the regime, said she was opposed to the military exercises.
Las armas que la revolución tenía contra el imperio eran argumentos creíbles y el respaldo popular. No nos queda ninguno de los dos.

— Gabriela del Mar ⚖️ (@gabrieladelmarp) August 26, 2017
The weapons that the revolution had against the empire were a convincing arguments, and the support of the people. We no longer have either of the two. 
Sources: Reuters, El Nacional, El Nuevo Herald, RT.