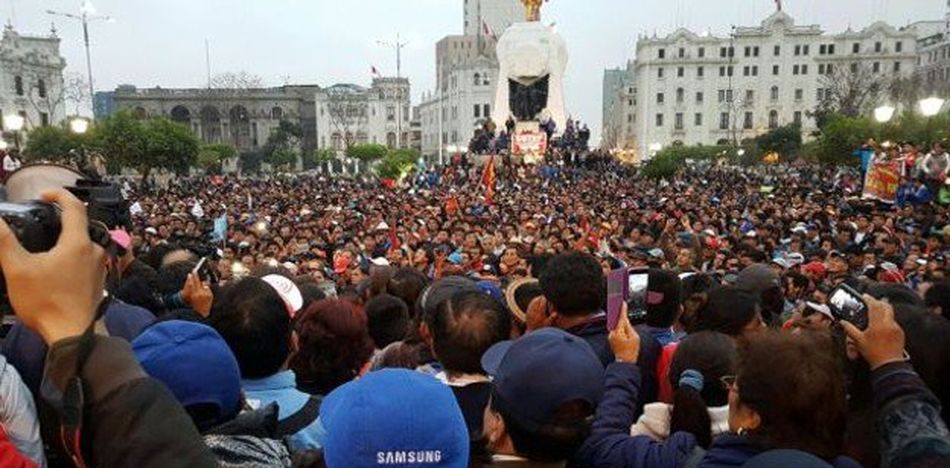 EspañolThe teachers' strike in Lima, Peru has been going on for more than two months and teachers involved insist that they will continue to protest until they achieve their goals, increasing pressure on both the government and on Keiko Fujimori's party Fuerza Popular.
Teachers demand a salary of at least US$1,234, that 10 percent of the national budget be spent on education, and that the current law linking teacher evaluations to potential dismissals be repealed.
Last weekend, officials expected an agreement to come to fruition between the government and protest groups, but the teachers broke off dialogues because the government insisted in keeping performance evaluations as they current stand.
"The government is responsible for this and isn't taking this strike seriously," said Fernando Tuesta, a civics teacher. "Strikes like this do not happen overnight. There is a gradual process of maturation that, in this case, has gone unnoticed by officials."
According to Tuesta, if no agreement is reached, government approval will continue to fall. However, the strike could also affect the political party Fuerza Popular, after new accusations arose claiming the political party called strikers during the negotiations, which has generated suspicion.
Additionally, Fuerza Popular is the only group that has refrained from participating in dialogues. Its members have instead accused the party of wanting to sabotage efforts to end the protests.
Read More: Peruvian Government Declares Violent 60-Day Teacher Protest Illegal
Read More: Peru Government Fines Uber for Failure to Disclose Information to Consumers
"Fuerza Popular remains dedicated to boycotting the agreement," Tuesta said. "Keiko Fujimori placates the government, and does not provide a way out of this conflict. It's easier for her to criticize us or say that the executive branch will take over the issue. What was the point of gaining a majority in parliament if they are just going to do that?"
At the same time Fuerza Popular is also facing a flurry of criticism over Marcelo Odebrecht's recent statements about bribe scandals in the country involving Fujimori.
Sources: El Comercio; Gestión.