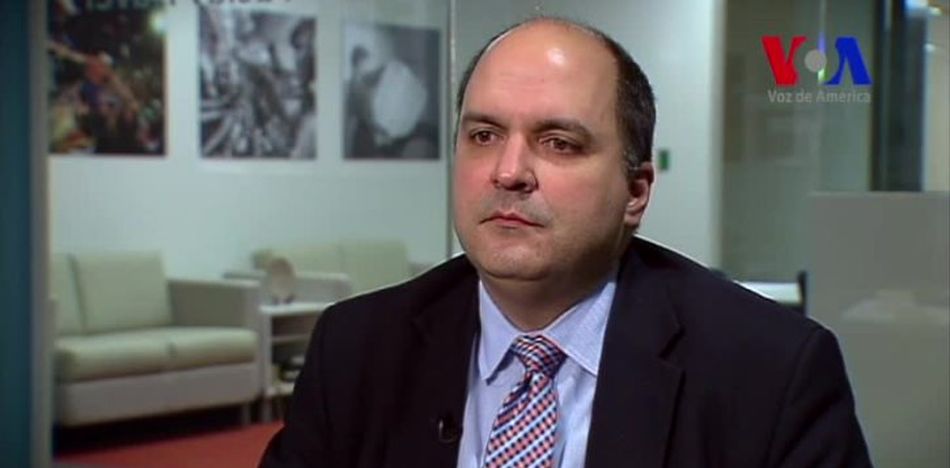 EspañolUS sanctions against Venezuelan regime officials were stalled by bankers and even some opposition members in Venezuela, according to Carlos Ponce, Freedom House's director for Latin America and the Caribbean.
Freedom House, a Washington D.C. non-profit that advocates for the expansion of democracy and human rights across the globe, recently welcomed the Trump administration's measures to pressure the Nicolás Maduro regime, which included travel bans, the freezing of assets in the United States, and a prohibition of doing business with key figures.
"We are convinced that the list of officials sanctioned by the US Treasury must be expanded and include several financial middlemen such as bankers, insurance companies, Army officers and particularly their relatives and 'lovers' so that pressure keeps growing," said Ponce in a August 18 interview with El Tiempo Latino, a Washington DC newspaper.
He added, "I don't think we Venezuelans can defeat the narco-dictatorship without international support."
Ponce also said that Freedom House would like to see the US sanctioning "not just officials, relatives, and their commercial partners, but also entities and individuals that have profited from speculation with bonds and currency exchanges that have led to Venezuela's economic collapse. They are complicit with the corruption and misery that most Venezuelans suffer."
"The list of sanctioned individuals we have seen so far validates the effectiveness of the measure. We have witnessed how bankers, government officials, and Venezuelan military fear they are next," he said, regarding the 13 names targeted by the Trump administration in late July, which includes generals, businessmen, and top officials such as the head of the electoral council and the nation's ombudsman.
"These sanctions, just as in South Africa or Burma, will help pave the way for the return of democratic order and a transition government," he argued.
The Freedom House representative explained that sanctions hadn't been rolled out earlier due to the need of "having proof, checking connections, and verifying commercial partnerships between the accused, and thus discover the means and tools they use to launder and transfer their toxic funds."
Even though he did not give specific names, he also claimed that "some bankers interfered by using Venezuelan opposition members and their financing to hire lobbyists in the United States to delay several efforts."
Fuentes: Punto de Corte, El Tiempo Latino.