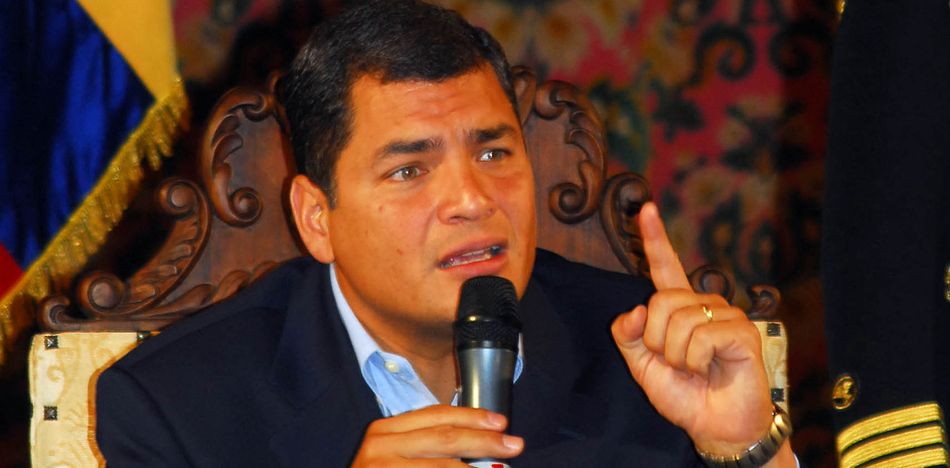 The former president of Ecuador, Rafael Correa, again criticized his successor Lenin Moreno, after he announced "austerity measures" to deal with the country's economic crisis.
Correa attacked the Ecuadorian president Lenin Moreno, from Belgium, through his official account Twitter, in which he took aim at Moreno's economic policies and administration.
"When will they start working and stop lying and clowning around? Remember, cynicism, betrayal and mediocrity will be ephemeral," continued the ex-president.
¡Pura demagogia e incompetencia!
Las "medidas" para enfrentar la "crítica" situación económica (en realidad, para pagar sus promesas de…

— Rafael Correa (@MashiRafael) August 8, 2017
…campaña y obscuros pactos políticos), es vender un avión presidencial, los "autos de lujo", y los bienes de INMOBILIAR.
El mundo debe…

— Rafael Correa (@MashiRafael) August 8, 2017
…este Gobierno no tiene la menor idea de lo que es trabajar, más aún en el mundo de hoy.
Que no sacrifiquen el avance del país por…

— Rafael Correa (@MashiRafael) August 8, 2017
"Pure demagoguery and incompetence! The 'measures' to confront the 'critical' economic situation (in reality to pay for his campaign promises and corrupt political bargains) is to sell a presidential plane, the 'luxury cars', and state real estate assets. The world must know that this government doesn't have the least idea of how to work, much less in today's world."
Rafael Correa staunchly supported his former vice president during the campaign, but has since had a series of angry confrontations with Moreno, indicating growing division amongst the ranks of Correa's Alianza Pais party. Correa has announced that starting next Saturday, he will launch a new "digital forum" via social networks at 10:00 local time in Ecuador.
"Let's all get together this Saturday, August 12, at 10 o'clock Ecuador time, to watch a short presentation" on Facebook Live, announced the former head of state of Ecuador.
According to Correa, he will use this new forum to "clarify the lies, and nonsense", referring to the open discussions he maintains with his successor.
The ex-president's announcement comes shortly after the current Ecuadorian government has disavowed vice president Jorge Glas's Correa-style television program and says that the only official informational spaces of the Ecuadorian government are: "The Government Informs" and the participation of the president, ministers, or secretaries of state in the media or public appearances.
"Any other mechanism or format, regardless of the medium used, whether traditional or digital, lacks the approval of the Ecuadorian government and does not represent it in any way," said a statement issued by the National Secretariat of Communication (SECOM).
https://twitter.com/SomosMasEc/status/895015876558286849
Current vice president Jorge Glas, a close associate of Correa, was widely rumored to harbor presidential ambitions, but was not faring well enough in the polls to warrant a presidential run.
Correa served a decade in office on the popularity of his ramped up spending on infrastructure and social programs, but also added greatly to the country's external debt. Moreno's austerity measures are a consequence of Correa's tax-and-spend policies.
Sources: La Republica, El Comercio, Ecuavisa