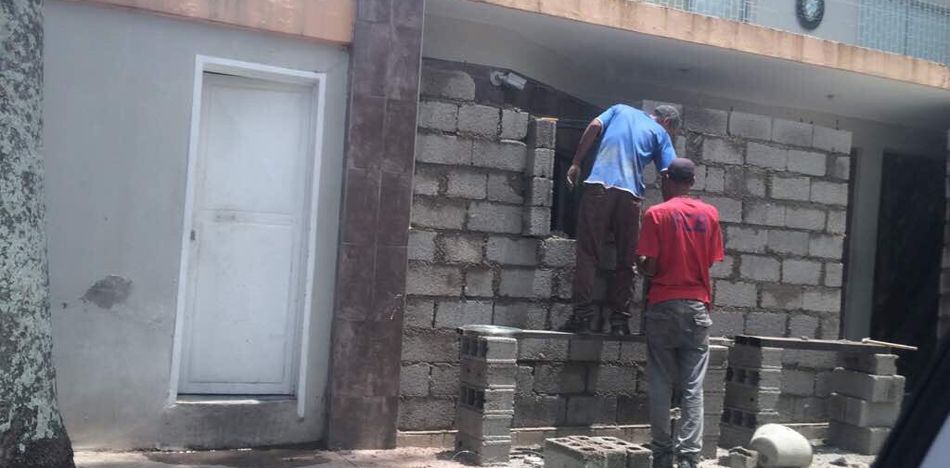 EspañolWorkers are currently reinforcing the Cuban Embassy with cinderblocks and steel bars as the country's crisis continues to worsen under the regime of President Nicolás Maduro.
The reason for the increased security is unconfirmed, but social media has been abuzz with speculation that the wall intends to protect against a wave of violent backlash to Maduro's policies. This weekend, a military uprising saw a group of rogue army officers steel weapons from a military base. Some believe the Cuban embassy's extra protection comes in response to an even larger attempted coup.
The Cuban embassy represent the regime's primary political and economic ally. The building was attacked in 2002 during a demonstration against Havana's interference in Venezuelan affairs.
Cuba has been an ally of Venezuela since late-President Hugo Chavez came to power. Since then, the two countries have steadily improved their bilateral relations through joint ventures, financial transactions and energy resource exchange, as well as cooperation in intelligence and military endeavors.
Cuba came to Venezuela's defense after near-unanimous international outcry denounced the country's transparently fraudulent elections for a Constituent Assembly planning to rewrite the constitution.
RARA PREVISIÓN, NO LES PARECE?
"Embajada de Cuba levantando apurados una pared hoy 9:00 am" pic.twitter.com/SGWfjg9JXn

— Carlos Ramirez Lopez (@carlosramirezl3) August 6, 2017
IT'S PROPHETIC DON'T YOU THINK?
The Cuban embassy has been building a wall today at 9AM
https://twitter.com/edgardVE/status/894231383450759168
Diarrhea concentrated at the Cuban embassy in Ccs. 
They are building a brick wall at the main entrance.  TickTock…
Así tendrán la conciencia en la embajada de Cuba q construyeron una doble pared. Craso error no haber optado por bloques de acero reforzado pic.twitter.com/5p1SlTcGJu

— Mónica Corrales Malvic (@monicacorrales) August 7, 2017
They are aware enough to build reinforce their walls. They made a mistake by not opting for reinforced steel. 
¡¡¡Tienen miedo!!! Embajada de Cuba cierra con bloques entrada….. Será que saben lo que viene??? pic.twitter.com/wcKEfJBkZV

— Unidades Resistencia Popular (@ResistenciaURP) August 6, 2017
They are afraid!!! Cuban embassy blocks it's entrance with bricks. Could it be that they know what it coming???
Sources: Cubanet; Cibercuba; Notimundo;