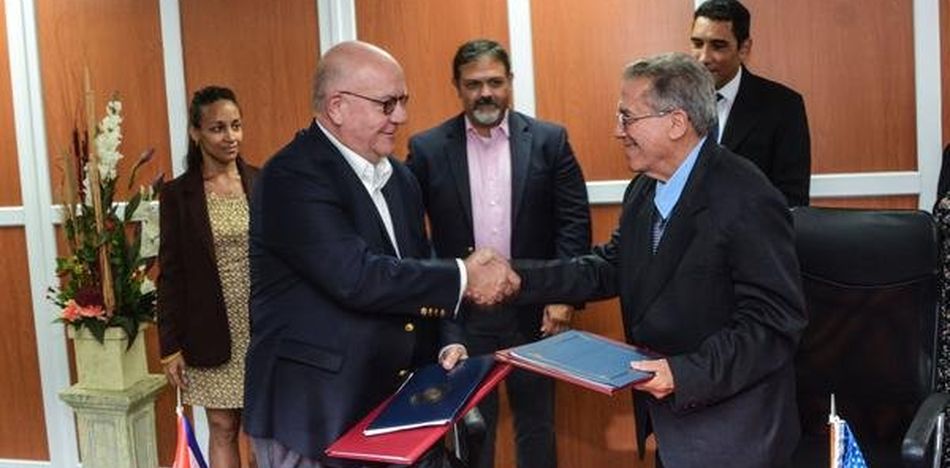 EspañolThe Port Authorities of Cuba and Houston, Texas have signed a "friendship and commercial cooperation" agreement.
"This is an opportunity to continue trade in agricultural products between the United States and Cuba," Houston Port Authority Commercial Director Ricky W. Kunz said after signing the agreement with Cuban officials.
Though US President Donald Trump said Cuba must first meet international human rights standards before normal trading between the two nations could begin, Cuba and Houston — the country's busiest international trade port — saw a valuable and convenient economic opportunity.
"Due to the proximity of our coasts, all the international maritime traffic passes by them on the direct southeastern trade lines," Kunz said. "It's important for them to do business with the ports of the United States and we will continue to develop them."
The Cuban Ministry of Transportation said in a press release that the agreement "demonstrates the willingness of the US port maritime sector to strengthen trade relations, friendship and cooperation with Cuba based on mutual respect."
The agreement generally seeks to facilitate and promote trade, generate new business and foster a "closer" bilateral relationship between two nations who have had a historically frigid relationship. The agreement also provides for the exchange of studies and information to improve and increase level of market research, joint marketing activities, training and technological exchange.
It's the eighth agreement signed by Cuba with United States ports, other of which are located in Florida and Virginia.
"Texas is a state that is rich in agricultural, livestock, industrial development and Cuba is interested, like them, in negotiating and developing a prosperous and sustainable commercial exchange. We are headed toward that," José Prado, the Director General of the Maritime Administration in Cuba, said.
Sources: Cubanet; El Nuevo Diario; Radio Reloj.