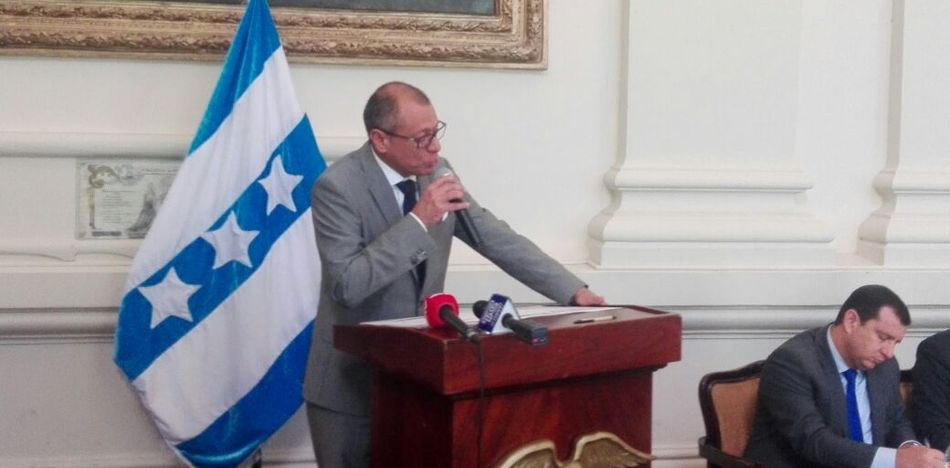 Ecuador's vice-president, Jorge Glass, testified before the public prosecutor's office regarding the Odebrecht corruption case.
"Here clearly there has been an attempt to destroy peoples' reputation, in order to affect an electoral process and that will have to be reviewed under the provisions of the Law of Communication," said Glas, concluding his version of the case.
As he exited, dozens of people waited for Glas to express their support to the vice president, who presented himself for the second time to make statements in the legal investigation.
César Montufar, an opposition politician, who was seeking to pose 25 questions to Glass regarding his role in the corruption network, was physically and verbally assaulted by the group of Alianza Pais militants, sympathetic to Glass.
"For hire" "mercenary" and "opportunist", were among the epithets shouted at Montúfar, who was ultimately unable to question the vice president, after the incident on the outskirts of the prosecutor's office.
The opposition seeks to impeach the Ecuadorian vice president for his alleged direct relationship with several of those arrested in the Odebrecht case, the most notorious being Mr. Ricardo Rivera, Glas's uncle, who is alleged "to have received several million dollars of illegal Odebrecht payments because of their family relationship with a senior government official."
Glas has not yet been formally named as a defendant in the corruption case of the Brazilian construction company; Montufár said that he hoped that "Glas will not get a free pass, as has happened with other officials…we hope to initiate the process of investigation, of formulating positions…and not allow Glas the opportunity to escape overseas."
Ecuador's opposition parties did well in the last election cycle in February of this year, but still remain in the majority in the country's National Assembly, which is controlled by Rafael Correa's Alianza Pais party.
Correa did not run for reelection this year, and has indicated he will move to his wife's native Belgium to pursue academic work.
Sources: El Universo, La Republica, El Telegrafo