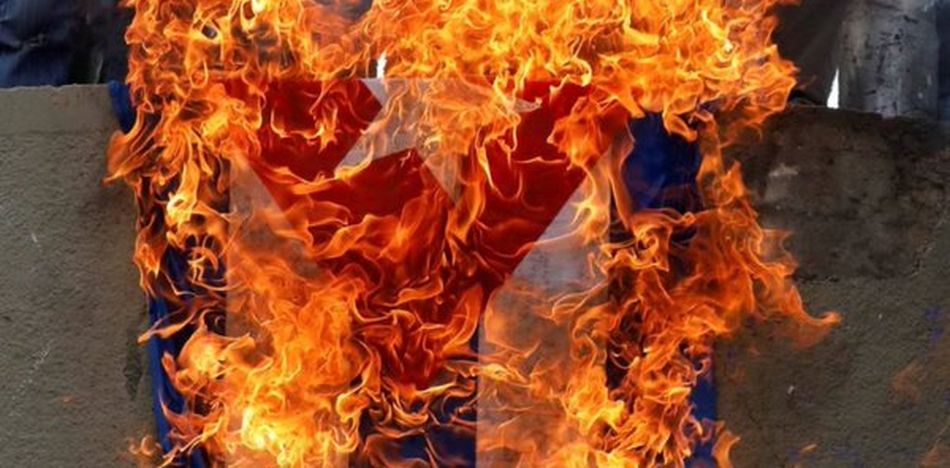 EspañolProtesters in Venezuela burned a Cuban flag this weekend as a symbolic rejection of the links between the two countries' dictatorial regimes.
The event, which has gone viral across the country and region, took place on the 71st straight day of demonstrations against President Nicolás Maduro's dictatorship.
"Against Castro's interference in Venezuela," tweeted Venezuelan journalist Alberto Rodríguez in a video of the flag burning. It shows several hooded men pouring lighter fluid over the flag and then igniting it.
VIDEO | Contra la injerencia castrista en Venezuela: Así le prendieron candela a la bandera de Cuba durante represión en Las Mercedes #10Jun pic.twitter.com/3HWYqvl863

— AlbertoRodNews (@AlbertoRodNews) June 10, 2017
Tweet: VIDEO Against Castro's intervention in Venezuela: this is how the Cuban flag was burned during repression in Las Mercedes.
The burning took place in Altamira, Caracas, after the protest on Saturday, June 10, when the National Guard and the Bolivarian National Police were successful in repressing demonstrations.
The flag burning caused controversy across the country, and world.
"The Cuban flag represents all Cubans and not exclusively the tyrant R. Castro. It is not correct to burn it," one person said.
A Cuban woman even decided to burn the Venezuelan flag in response because, in her opinion, her country "is not to blame for the president they have in Venezuela that did not know how to run the country like he should have."
"I as a Cuban will burn the Venezuelan flag," she said, and invited other Cubans to do the same.
https://twitter.com/AbrazoMusical/status/874159217254551552
Tweet: Cuban resident in England angry about Venezuelans burning flag. What would they say if we invaded Cuba like they do?
This is not the first time groups of Venezuelans have burned the Cuban flag. Between 2013 and 2014 there was also an incidents of tense relations between the populations of both countries.
Sources: Diario de Cuba; Cubanet, Cibercuba.