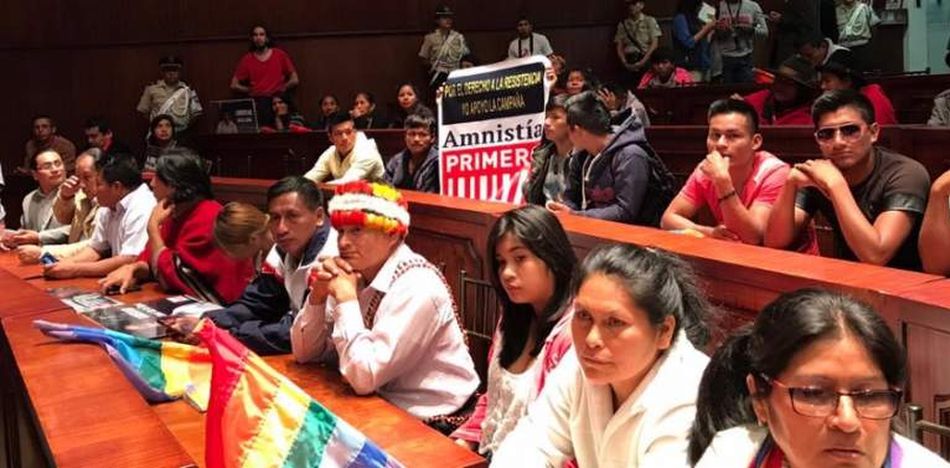 Leaders of the Confederation of Indigenous Nationalities of Ecuador (Conaie) requested amnesty and pardon for 177 people indicted for protesting against former President Rafael Correa.
The petition for amnesty for 177 people and the pardon of another 20, was delivered last Tuesday May 30 in the National Assembly, with the backing of 8,800 signatures.
"Today, we received an amnesty proposal from @ CONAIE_Ecuador for pertinent analysis. The new @Ecuador Assembly is open to dialogue," said the head of the Legislature, José Serrano.
"It is not an issue that should be dealt with in a general manner, but rather by this Assembly; they will receive a response as soon as possible," he added
.

Meanwhile, Conaie explained that the list includes indigenous peoples, farmers, human rights activists, and environmental activists, as well as social leaders, "criminalized for protesting and demanding their rights in Ecuador."
"We are not asking for forgiveness, we demand JUSTICE and FREEDOM for all social activists," said the leaders on their Twitter account, which also mentioned that "the fight does not end with the petition for amnesty for 177 people, it deepens CONAIE's platform for political engagement."
The National Assembly will request the repeal of an article in the Comprehensive Criminal Code that in its vision criminalizes protests through the typification of attack and resistance. A suit will also be filed before the Constitutional Court.
Rafael Correa, who led Ecuador for more than a decade, did not stand for another term this year, paving the way for a hotly contested election between former vice president Lenin Moreno and former Guayas governor Guillermo Lasso.
Moreno, the candidate of Correa's Alianza Pais party, won by a slim margin, in an election that was marred by claims of fraud.
Sources: La República; El Comercio