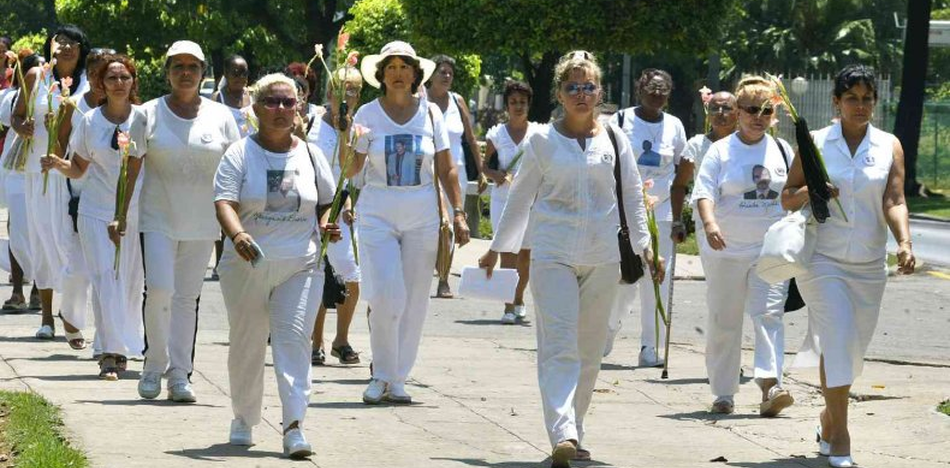 The Cuban regime arrested nearly 50 "Ladies in White" on Sunday, April 23, in different parts of the country, after a three-day police operation against that opposition organization.
The operation carried out by the state security forces and the Cuban Police arrested some 20 members of the group in Havana alone.
The operation was also carried out in municipalities of the provinces of Matanzas, Havana, Ciego de Avila, Palma Soriano, and Guantánamo.
Berta Soler, leader of the Ladies, had already denounced before being detained that both the Department of State Security and the National Revolutionary Police had "besieged the headquarters to prevent the ladies from entering, and assaulting" those who were inside.
"We have already endured 98 repressive Sundays at the hands of the Department of State Security against the #We All Campaign for the freedom of political prisoners," Soler said.
Las Damas de Blanco, as its known in Spanish, is one of the most active opposition organizations against the Cuban regime. Every Sunday women go out to try to go to mass and claim the release of political prisoners, despite constant repression.
On this occasion, lady Aliuska Gómez García narrated what happened: "The arrest was violent. Paramilitaries and members of the State Security brigades dragged Berta Soler down the pavement, and Damas Deisy Artiles and Cecilia Guerra as well. Activists Angel Moya and Oscar Sánchez Magán also were subjected to strangling techniques."
Activist Lucía López Rondón was "beaten by the police patrol, which took her to a municipality far away where she lives," he continued.
In addition, she reported that she and Lady Sodrelis Turruella were "verbally abused for more than 30 minutes, victims of racial insults and gender violence."
The movement has received considerable international exposure. In 2005 they won the Sakharov Prize for Freedom of Thought from the European Parliament. They have also been subject to perpetual crackdowns by the Cuban regime.
Sources: Cubanet, Martinoticias, Diario de Cuba