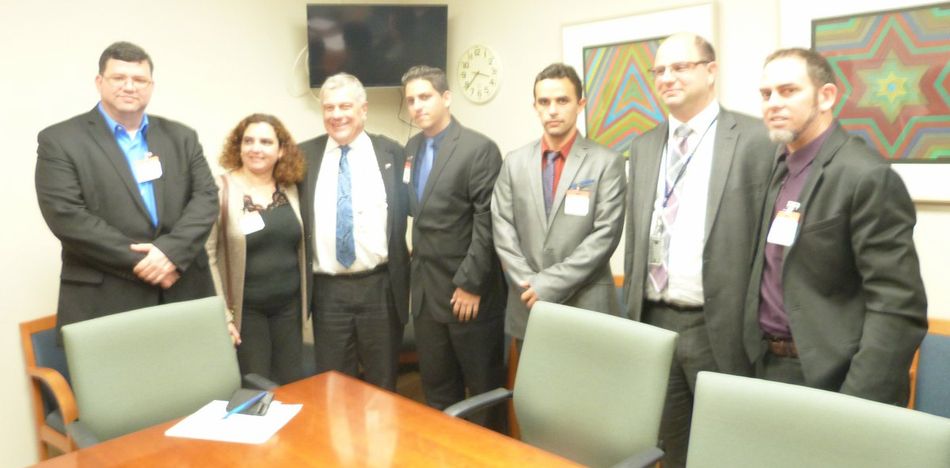 Five Cubans representing religious faiths went to the International Bureau of Religious Affairs of the United States Department of State to report violations of religious freedom on the Caribbean island.
Felix Llerena and Yiorvis Bravo, Cuban residents, as well as Yoaxis Marcheco, Mario Felix Lleonart and Raudel Garcia, who live in the United States, denounced arbitrary arrests, interrogations and the demolition and confiscation of places of worship.
We exposed the violations of religious freedoms on the island, especially against the apostolic movement, the demolition of church buildings, and the outlawing of more than a thousand churches of the Assembly of God throughout the territory," Llerena said.
The group of Cubans, all coordinators of the Patmos Institute, an independent project that aims to be an open discussion forum on Christianity, denounced that the Cuban regime harasses various religious groups and calls them "illegal."
This is the case of Jehovah's Witnesses, who "have been considered illegal in Cuba for more than three decades." The government also considers both pastors and "all" churches of the apostolic model and their places of worship to be illegal.
Likewise, the Cubans denounced, before the officials of the United States Department of State, the dissemination of rumors and misinformation about religious leaders; as well as against the Patmos Institute.
Members of the Patmos Institute thanked the US Department of State for welcoming them.
El Instituto #Patmos agradece al @StateDept por reunirse hoy con cinco de nuestros coordinadores y recibir urgentes reportes sobre #Cuba pic.twitter.com/DM1Bw07wJj

— Instituto Patmos (@ForoPatmos) April 21, 2017
Tweet: The Patmos Institute thanks the Department of State for today's meeting with five of our coordinators and for receiving urgent reports about Cuba.
Cuba has long claimed freedom of religion, while in practice cracking down on many religious faiths deemed a threat to state power and control.
With the recent death of Fidel Castro, the government has showed signs of loosening its tight restriction of civil society. However, many human rights groups have criticized Raul Castro for continuing the government's repressive policies.
Source: Martí Noticias.