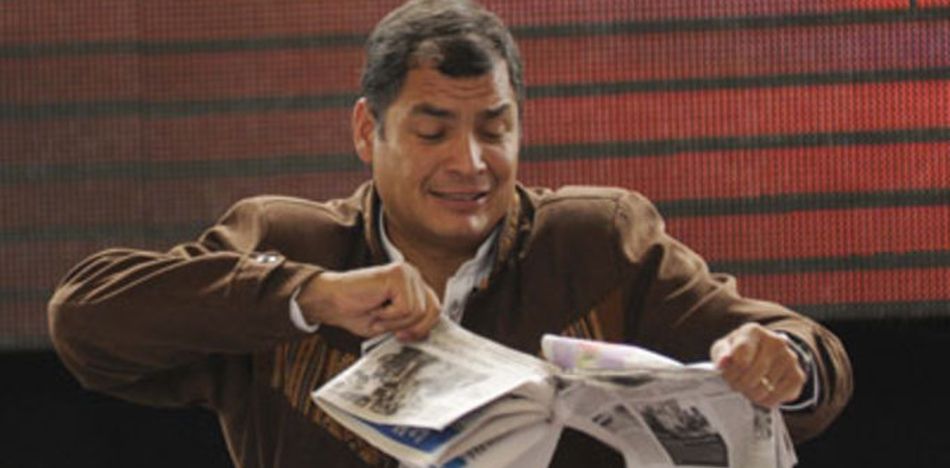 EspañolThe Inter American Press Association spoke out against political persecution of Ecuador's media by President Rafael Correa's adminsitration.
"We are dealing with an unusual case in which Ecuador's gag law is being used to punish the media," IAPA President Matt Sanders said. "What we are seeing is the media's right to their freedom of editorial criteria being systematically violated."
The complaint took place following the Ecuadorian president's public accusations that several local media outlets were not publishing news that he considered of public interest given the country's recent elections.
According to Correa, seven media outlets did not publish an article that was published by an Argentine newspaper, which accused opposition presidential candidate Guillermo Lasso of owning offshore companies and other financial irregularities.
"Once again the gag law is used as a cover to meddle in the contents and editorial criteria of the media," said President of the IAPA's Committee on Freedom of the Press and Information, Roberto Rock.
"If it were up to Correa's government, the Ecuadorian media would report everything that is published in the world in their favor and silence what is criticized, in order to avoid encouraging democratic destabilization."
"We are facing a government that has created a weapon of censorship — the worst that has been created in the democratic stage of Latin America — to systematically violate freedom of the press."
Sources: La República; La Opción.