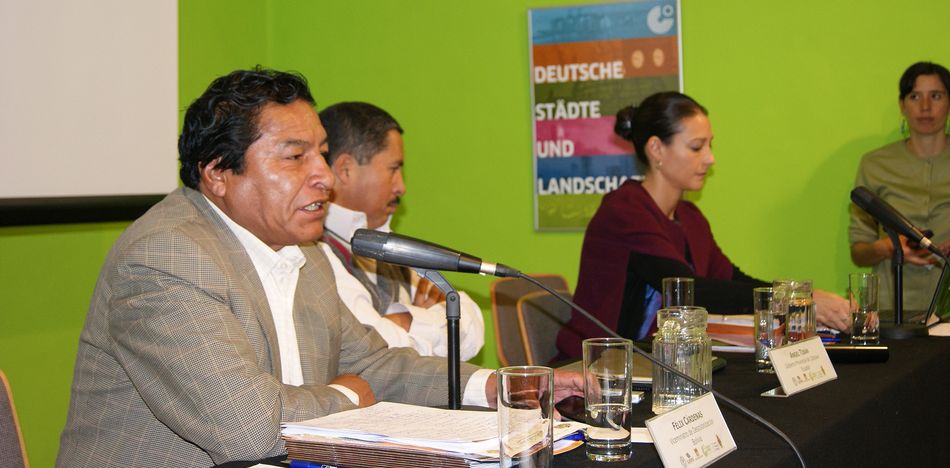 Bolivia's Deputy Minister of Decolonization, Felix Cardenas, reported that on Wednesdays, the only language allowed at that government office will be Aymara.
"At the Decolonization Ministry, every Wednesday will be language day. On this day, nobody will be allowed to speak another language besides Aymara, which we should all know," he said.
The deputy minister explained that the measure is a way of putting the native language that officials have been learning  into practice, since, as established in Article 234 of the Political Constitution of the State, all public servants must learn a native language of their region and be able to speak it fluently.
Cardenas asserted that he has certified approximately 20,000 public officials in Aymara and Quechua at an initial level, out of the 350,000 who work in public institutions, governor's offices, municipalities, and decentralized entities, without taking into account the School of Plurinational Public Management (EGPP) and the Institute of Languages and Cultures' certificates.
Likewise, the deputy minister announced that between next May and June, there will be an evaluation of the entire state apparatus to verify that everyone has knowledge of a native language.
"Starting in May, we will enter each ministry, government office, and municipality, to verify if public servants speak a native language, as established in article 234 of the Constitution," he said.
According to Cardenas, "each public servant" will be evaluated, and then a report will be delivered to the highest authorities of each public entity to make a decision regarding employees who do not meet this standard.
Cardenas explained that the inspections will be carried out in coordination with the EGPP and the Institute of Languages and Cultures.
Evo Morales, who is of Aymara descent, was the first indigenous president in the nation's history. Lately he has been at the center of controversy over his plans to run for an unprecedented fourth term.
Sources: El Deber; Correo del Sur