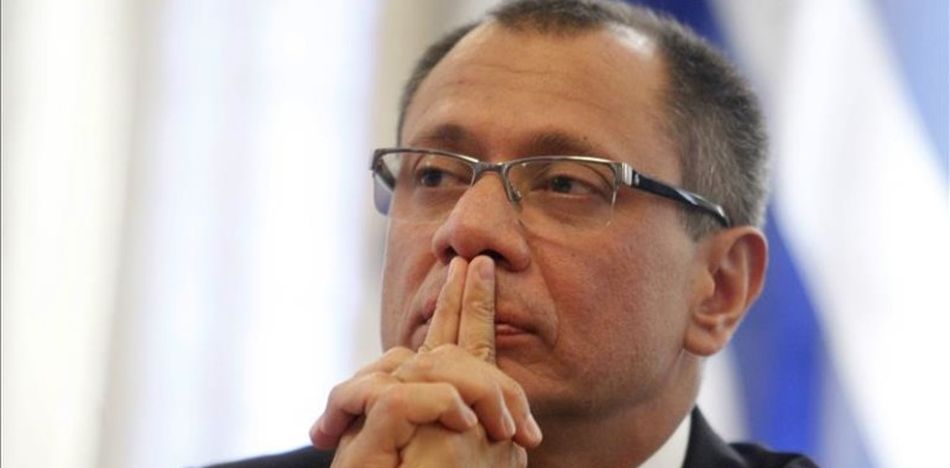 Jorge Glas, who is currently seeking reelection as Ecuador's vice president, with the Alianza Pais party, said that his government has protected dollarization.
According to Glas, measures have been taken to strengthen dollarization, and he presented hydroelectric power plants, and infrastructure improvements at the Esmeraldas refinery as examples.
Ecuador depends more on taxes, and less on oil, he said.
"For 18 months the government worked with zero oil revenues and our projects did not stop, and we did not increase the cost of services or stop paying salaries," he said.
The vice presidential candidate also referred to allegations of corruption, stating that, "my hands were clean, how could I possibly know that someone involved in project finance was hiding funds in tax havens… that they were receiving bribes. I am an engineer, not a psychic…here we had the best auditors," he said.
With Ecuador's presidential election just four days away, Glas has launched into full-blown campaign mode, promising the construction of 325,000 houses, of which, 191,000 will be free.
He also said that he will fulfill the role assigned to him by President Lenin Moreno, who is Alianza Pais's candidate for president.
"The tasks assigned to me will be carried out with efficiency and honesty, as I have done in the last ten years," he said.
Glas, who spoke for 40 minutes about the current Ecuadorian government and campaign promises, also criticized the candidacies of Guillermo Lasso and Andrés Páez, who are running on the CREO-SUMA ticket.
He recommended reading the government plans for both electoral options. "Our plan defends rights and principles and the other is an agenda of privatization," he concluded.
Sources: La Republica, El Universo