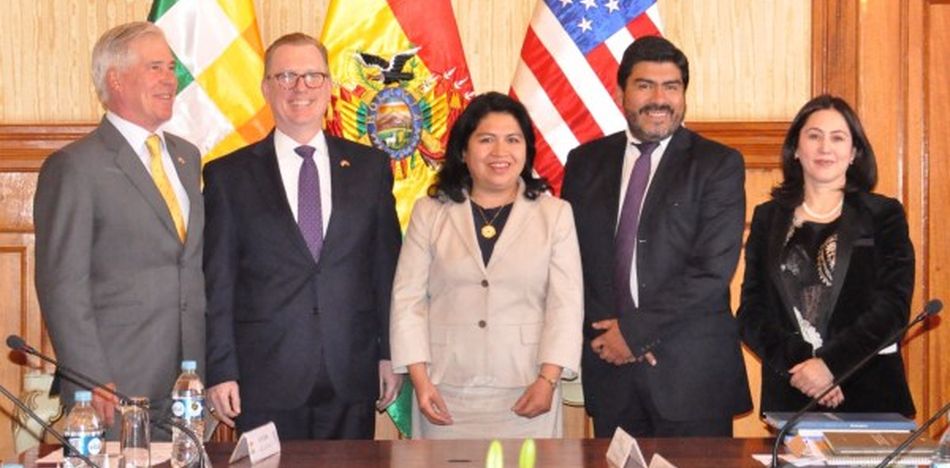 EspañolUnited States officials traveled to Bolivia this week for the first time since 2008 in an attempt to strengthen bilateral relations between the two nations.
United States Deputy Assistant Secretary for Western Hemisphere Affairs Michael Fitzpatrick met with three of the Foreign Ministry's deputy ministers and expressed his desire to establish working groups to improve diplomatic relations.
"I made this visit to assure the people and the government of Bolivia that we are sincere in the search for normalization of relations between the both of us," Fitzpatrick said.
It is the first time President Donald Trump's government has sent an official to meet with Evo Morales's cabinet, who routinely question the US President's decisions.
"We have talked about our many common interests and the many ways in which we work and can continue to work together," Fitzpatrick said. "Specifically, we talked about the creation of work groups on mutually beneficial topics to strengthen diplomatic relations."
The meeting was held between Fitzpatrick, Deputy Minister of Foreign Trade and Interior Clarems Endara, Deputy Minister of Institutional Management Carmen Almendras and the Deputy Foreign Minister Guadalupe Palomeque.
The conversation lasted three hours, all sides saying there were positive results and that they both look forward to working with each other.
The basis of the meeting was reportedly the agreement signed between both countries in 2011, which is based on cooperation, trade and investment and combating drug trafficking.
Sources: El Deber; Erbol; Los Tiempos; Página Siete.