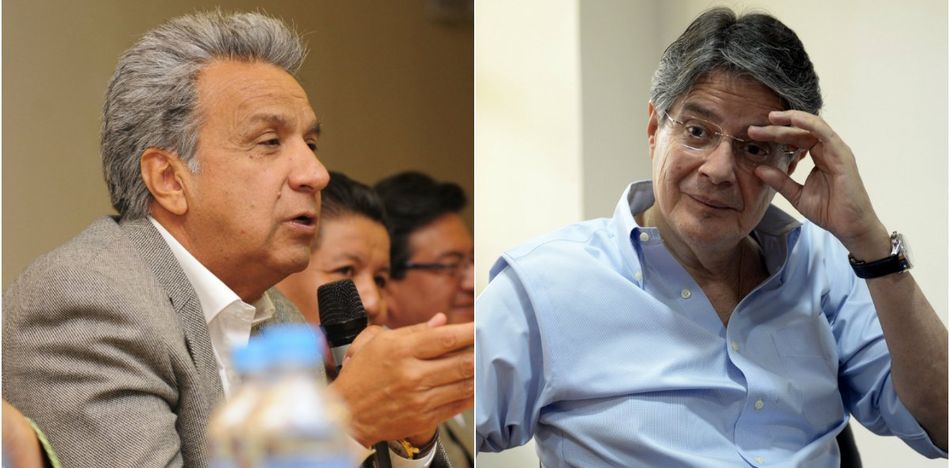 The polling firm CEDATOS has reported its last polling results before the Ecuadorian presidential elections, which show ruling party candidate Lenin Moreno, as the winner of the second round of elections.
The poll conducted between March 18th and 21st, showed the ruling party candidate with 52.4% of the vote compared to opposition leader Guillermo Lasso's 47.6% (a 4.8% difference).
CEDATOS also indicated that 9.5% of the population will vote null and 3.3% will vote blank. 16% of respondents say they have not made a decision on who to vote for.
CEDATOS used a sample of 4,476 people in 23 provinces of the country, with a margin of error of +/- 3.4% and a confidence level of 95%.
Other recent opinion polls, such as Opinión Pública Ecuador (Public Opinion Ecuador), Perfiles de Opinión (Opinion Profiles) and Market, also found that current president Rafael Correa's candidate would be the winner in the second round that will be held on April 2nd.
According to Public Opinion Ecuador, 46.5% would vote for Moreno and 34.4% for Lasso, in a survey conducted on 1,885 people between March 11th and 12th.
Opinion Profiles consulted 2,032 citizens on March 17th, 18th and 19th, and the results showed that 49.37% would choose Moreno and 36.35% would choose Lasso.
Market, meanwhile, also polled 2,240 people between March 19th and 20th, and stated that 48.9% would choose Moreno as their candidate and 45% would choose Lasso.
The results of the four companies, as well as CEDATOS', reflect the "total votes", that is, they contemplate the inclusion of null and blank votes.
Guillermo Lasso, former governor of Guayas province, is facing former vice president Lenin Moreno. Rafael Correa will be stepping down after ten years of heading the Ecuadorian nation, and heading to Europe to pursue a career in academia.
Sources: La República; El Comercio; La Hora; El Universo.