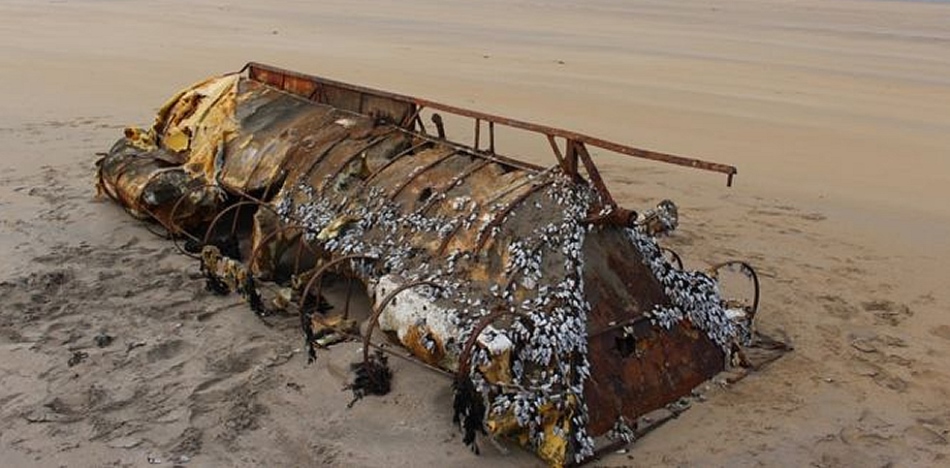 EspañolThe boat was discovered by Gordon Fillis out walking with their dogs on Cliffoney Beach, Ireland.
They noted that the boat "was very homemade and improvised, had a car engine and water bottles to keep it afloat."
It turned out to be a boat from Cuba, washed ashore after a failed attempt to get to the United States.
Fillis didn't figure this out until posting photogrpahs on a Facebook page called Lost in the Sea, which follows the trail of marine remains and discharges of freighters and objects arriving on the beaches.
The raft was reportedly identified as Cuban by a person in Florida who recognized the typical design of the vessel used by Cubans to sail the nearly 100 miles to the United States.
"He advised me to examine the water bottles again to see where they came from," Fillis said. "I looked at the labels and they were from Cuba, exactly the same brand that they had suggested."
The occupants of the boat were most likely intercepted and the boat was left adrift.
"If that boat could tell its story it would be one of true despair,"  the photographer said.
Following the startling discovery, a retired Seattle oceanographer and Atlantic debris expert said that it probably took months or even years to travel more than 4,000 miles across the Atlantic.
According to the figures provided by the United States Coast Guard, between 2015 and October 2016, 5,263 Cubans were captured at sea trying to escape their distressing situation of their country.
Sources: Cubanet; MartíNoticias; Cibercuba.